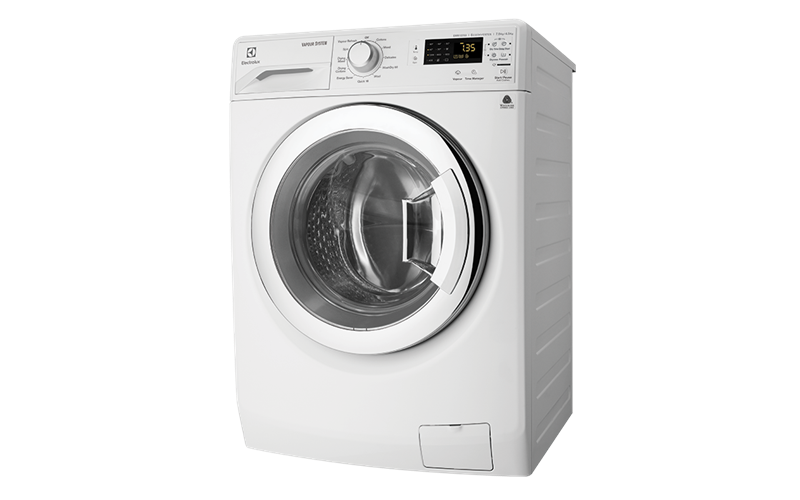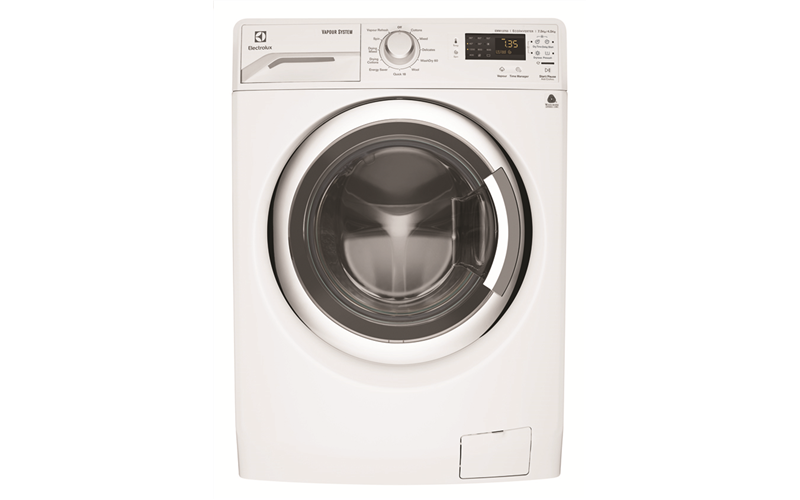 EWW12753
7.5kg/4.5kg Vapour Action System
7.5kg/4.5kg Vapour Action System
is rated out of
5
by
67
.
The 7.5kg/4.5kg wash and dry combo comes with WashDry 60 program to get clean, laundered clothes in just 60 minutes. Other feature includes Vapour Refresh, Time Manager, EcoInverter motor, Daily 60 minutes program and Woolmark accreditation.
Rated

5

out of

5
by
Gilly123
from
Quiet
I've had this machine for a month. It's so quiet I've had to check a few times that it's on. The spin is great, towels come out really light, not full of water. I haven't used the dryer yet The delivery guys were great. Kept me in the loop and removed old machine, installed and tested the new one. Thankyou
Date published: 2018-11-23
Rated

1

out of

5
by
Cheesed off
from
Rubbish machine
Very slow. Clothes very wrinkled even with the no crease cycle. The worst appliance I have ever bought. Wish I'd stuck with my 20 year old washing machine and separate dryer. What used to take me 3 hours (2 loads) now takes over 8 hours.
Date published: 2018-10-22
Rated

4

out of

5
by
Jayne838
from
Has its benefits
We have had the machine for 3 weeks now. Not sure why the reviews say it's loud, it's not. It's quieter than the 4 year old also we had. The drier is quiet but I agree with other reviews that say it's not effective. Eg is an almost dry towel, put it in for 30mins and it still wasn't dry. I will tell the unknowing buyer about the wash time options. Quick is 17, next for a non delicates load is 1:05. It only goes up a lot from there! Nothing in between.
Date published: 2018-09-28
Rated

2

out of

5
by
Jess123
from
Washing machine great, dryer not so much
I bought this a few months ago. I was hoping I could use the machine as a dryer over those periods where there is no break in the rain. The washing machine component is great but unfortunately it does not dry your clothes much more than a spin cycle does.
Date published: 2018-09-10
Rated

5

out of

5
by
melvin
from
Great appliance for small homes
We had a bigger version earlier but this is good too. Decent for a family of 3-5 people.
Date published: 2018-09-07
Rated

4

out of

5
by
IvyX
from
Awesome product
Very creative combining washing and drying function. You can open the door and load some more clothes half-way through a washing cycle too. Good quality. Never let me know. I only go with Electrolux when choosing washing machine
Date published: 2018-09-04
Rated

5

out of

5
by
Sully12
from
Effortless laundering for men
Just put your dirty clothes in, add powder, turn it on.... and they come out clean and DRY in about an hour or so. Too easy.
Date published: 2018-08-31
Rated

4

out of

5
by
Maya Max
from
Everything is good
Just one small problem, that 18 minutes wash should be able to use 1200 spin, not 800 only. Overall very good.
Date published: 2018-08-30
Rated

5

out of

5
by
kazzabear
from
excellent product
purchased washer /dryer combo approx. 2 months ago best product I have ever purchased, the dryer dries clothes like they have just come back from the dry cleaner's, nice & quite. washes really well. love the Electrolux products
Date published: 2018-08-22
Rated

2

out of

5
by
IFrank
from
Okay at best
We've had our washing machine for a month now. The spin cycle needs to be run again after the wash or else your clothes are saturated. The drying function takes 2 to 3 hours, not that great. It washes clothes fine though, but you're better off spending your money elsewhere.
Date published: 2018-07-25
Rated

5

out of

5
by
TheGabfather
from
Great size, fantastic performance
Been using this model for 2 weeks now, and it's been performing great! Do not over fill the drum though, otherwise your pants and long sleeved shirts will twist and get wrinkly. Dryer balls work wonders as well. If you have a european laundry in a small apartmenr, chances are most washer/dryer models won't fit. This was the only one I found that did, with allowance to boot.
Date published: 2018-07-18
Rated

5

out of

5
by
Ky24
from
Washer and dryer combo
Great service and love our new machine, really enjoying doing the washing now.
Date published: 2018-07-12
Rated

5

out of

5
by
BrookeW
from
Very Happy
I had an old top loader before this & a broken dryer for years. Nothing was wrong with my old machine but I want to renovate my laundry which mean't a front loader washing machine. I have been so long without a dryer so I thought I would buy a combo for the just in case I need times... I have to say, I do love my new washer/dryer combo. Took me a few time's to get use to all the features, now I have & I just love it. Very happy with my purchase!!
Date published: 2018-07-09
Rated

5

out of

5
by
DazzH
from
Fantastic all rounder
Have had this for about a month and cannot fault it. No more having to hang clothes out on the clothes line or rack. Washes great and dries great. And no steamy sauna in the laundry like the old sort of dryer. Awesome product. Highly recommended.
Date published: 2018-06-20
Rated

5

out of

5
by
kaye11
from
Great washer/dryer
Very happy with the machine, Quick 18/Vapour Refresh are terrific features that we use a lot. Not a big dryer user, so won't use it much - it does finish off towels very nicely.
Date published: 2018-06-17
Rated

5

out of

5
by
HappyUser1
from
Perfect combo washing machine!
The unit is very easy to use and washes the clothes very well. The drying function is great however emptying the water is a bit of a pain with the plug at the bottom of the machine, so with my unit sitting on the floor it is hard to drain but not impossible.
Date published: 2018-06-15
Rated

5

out of

5
by
SB123
from
Happy
Very happy with my purchase. I like that you can add items after you have started the cycle (but haven't actually tested this)
Date published: 2018-06-05
Rated

4

out of

5
by
Customer
from
GreatProduct -AfterSales service needs improvement
So far I'm enjoying using the product. The drying cycle is very gentle on fabrics. I used to air-dry all of my shirts - now I'm confident to use this dryer for most fabrics. The minimal heat emission from the dryer is great too, compared to what I've had previously. Just a shame that the after sales service operates on a 1/2 day wait window. Can't even get a 2-3hr window if you call the morning of the servicing.
Date published: 2018-05-14
Rated

5

out of

5
by
Dita67
from
Super Space Saver!
I bought this recently and I am more than 100 percent happy with this purchase, although I am not that surprised as my previous Electrolux was great too but this one is better
Date published: 2018-04-06
Rated

5

out of

5
by
Sarabelle
from
Love it
Love It! Finally able to do my laundry in the designated space, love it.... no issues thus far, however, if I ever had to purchase again, would definitely go the larger barrel.
Date published: 2018-03-12
Rated

4

out of

5
by
Bulls
from
Very Happy
One month in and happy with both the washing and drying options. Easy to operate and very quiet.
Date published: 2018-03-11
Rated

5

out of

5
by
Greg57
from
Fantastic Washer
Best washer we've bought. Quiet efficient and washes and dries brilliantly
Date published: 2018-02-23
Rated

5

out of

5
by
WernerAndrea
from
Very easy to use
We bought this washing machine last month and so far we are very happy with it. It is very easy to use and the load balancer is way better then the last one. It also seems to be more efficient. We especially like the 18 Minute program.
Date published: 2018-02-16
Rated

5

out of

5
by
Emnad77
from
Love this machine
This is a great washer dryer. It has an 18 min quick wash cycle and a 1 hour wash/ dry, which leaves things slightly damp - but if you do the cycle in the evening everything is dry in the morning- brilliant for school clothes. It also leaves things quite uncreased. It's quiet too.
Date published: 2018-02-16
Rated

2

out of

5
by
Deb735
from
Some concerns
I bought this washer dryer combo a month ago. SomEtimes it dries strangely - with clothes dried, but stiff as a board and I have to peel them away from the sides of the tub. Yesterday, very worryingly, it singed a towel and a tshirt. Also the instructions on how to unlock the door are either incorrect or this feature is not working properly either. I am concerned. On the plus side it's a fairly quiet unit and seems to wash ok.
Date published: 2018-01-28
Rated

5

out of

5
by
Slugger
from
Washer Dryer Combo
Perfect and fits into tight space. Dials are easy to use as well
Date published: 2018-01-27
Rated

5

out of

5
by
Loopylou
from
Awesome
I bought my machine the end of November. It arrived and was installed the next afternoon. I have tried most settings and am so pleased with the results. The short cycle is especially useful. The clothes come out clean and nearly wrinkle free. I love my new Electrolux.
Date published: 2017-12-31
Rated

5

out of

5
by
Fizzer30
from
Easy to use, no problems
Got this a month ago, so far so good! Easy to use Love the 20min wash function
Date published: 2017-12-31
Rated

5

out of

5
by
BizzyBirdie
from
Greatwasher/dryer
I bought this washer/ dryer recently and am very happy with its ease of use and performance. Being able to open the door after starting the machine to add the odd forgotten item is an added bonus. Clothes are cleaned well and the machine is gentle on them. Great to have the combo unit as it takes up So much less room than having a separate washer and dryer.
Date published: 2017-12-30
Rated

5

out of

5
by
WasherBoy
from
Does exactly what is needed and saves on space.
This machine is a whiz. Select your setting, set the timer if you wish, and let it do its thing. The one hour cycle which includes a drying phase is perfect and clothes come out partially dry to hang. Delicates, cottons, colours and whites all catered for. Washing Bliss.
Date published: 2017-12-19