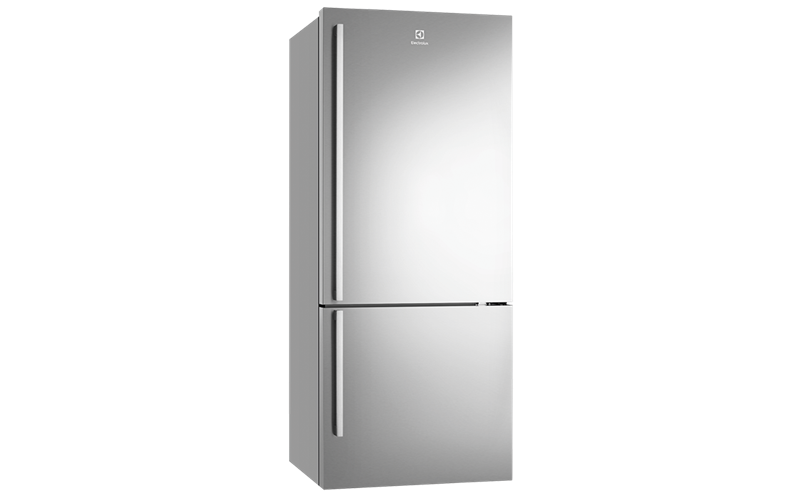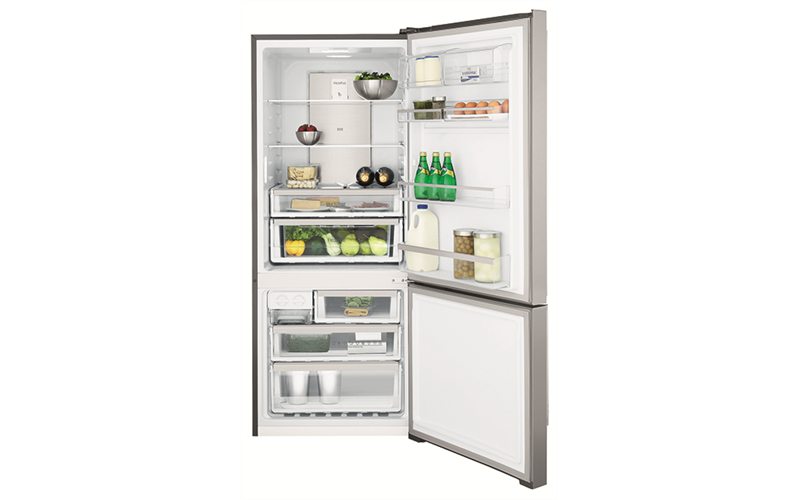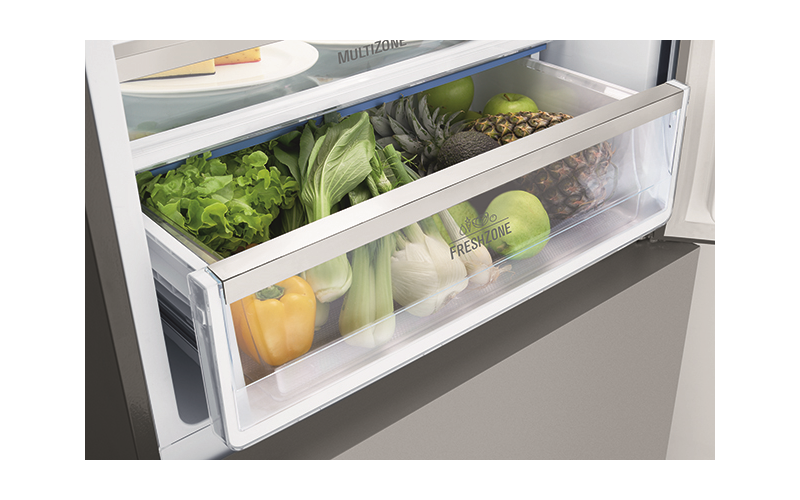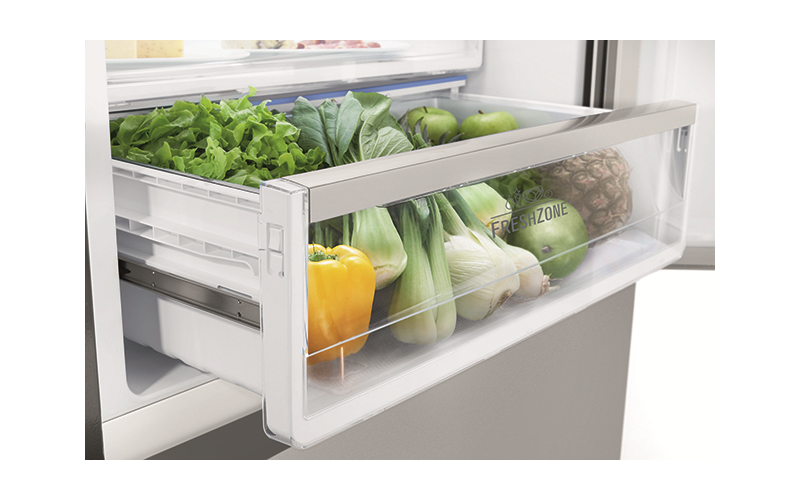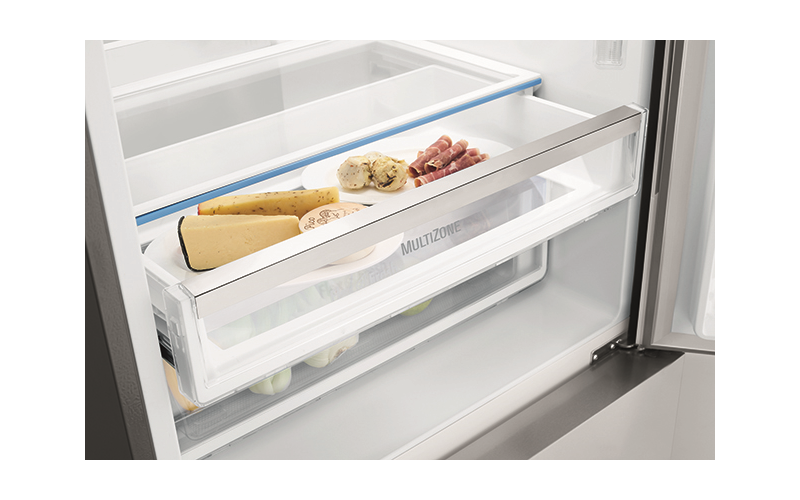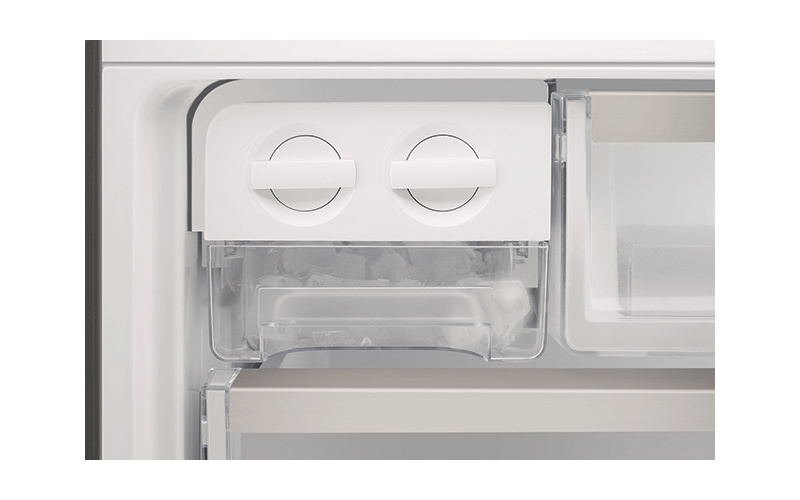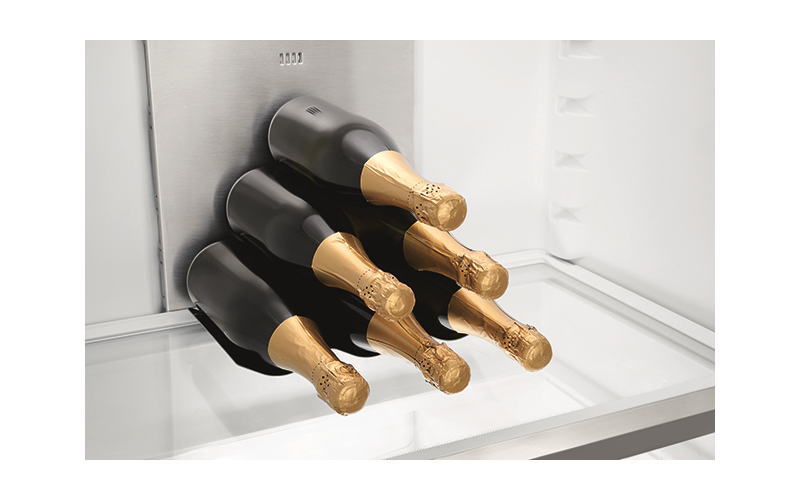 EBE4507SA
453L stainless steel bottom mount
453L stainless steel bottom mount
is rated out of
5
by
75
.
A 453L frost free bottom mount refrigerator with best in class energy efficiency, FreshZone™ double insulated crispers & a mark resistant stainless steel finish.
Rated

5

out of

5
by
maria57
from
Very Happy
I'm very happy with my new Electrolux Fridge. It looks great, inside and out. Foods like fruit, salads and veggies last longer in the crisper than any other fridge I've owned. Frozen foods keep well. No more rock solid ice cream for me and the Ice-maker is so handy.
Date published: 2018-09-09
Rated

4

out of

5
by
Marco
from
Electrolux - 453L S/S bottom mount fridge
I bought my Electrolux fridge about 6 month ago, I did some research on price, energy saving and suitability to my needs before I purchase it . So far I am happy with its performance, I would recommend this product is someone ask for my opinion.
Date published: 2018-09-06
Rated

4

out of

5
by
Grimjaw69
from
Struggling For Fridge Space Don't Stop With One!!
We've had this model for about 7months now and we're very happy so far. We looked at all the brands but nothing had such a good Star Rating when it comes to power consumption, especially when we decided to purchase x2 of the same model fridge to go side by side as they look awesome together, plus a lot of the other brands might look great with extra features such as ice makers etc, but when it came to the price we could purchase x2 453L models giving us 906L of space compared to buying one of the other well marketed brands, having those extra features which cut into your storage space not to mention only having enough room to have only one of those fridges instead and the power consumption was also double or so... We would always struggle having just the one inside fridge especially when entertaining/parties, but certainly not anymore and it's been wonderful. All in all they look very modern having them side by side plus you can get as an extra some skirting to go around them if they are in the wall flush which sets them off even more, which is another reason we purchased them as they will go nicely into our new house once we build!!
Date published: 2018-09-05
Rated

5

out of

5
by
serseb
from
Very good value
I bought this more than half a year ago and could not be happier about its performance. Power usage is a little lower than my previous fridge but for double the volume. Veggies really last much longer now and all this without getting dry. The spacing is very clever organised and very flexible, with a downside though: the bottom crisper cannot be removed for cleaning purposes without removing the right bottom door stand. I also like its premium maintenance free exterior finish.
Date published: 2018-09-05
Rated

5

out of

5
by
Leonardo
from
Energy efficient, good design, easy to clean!
Energy efficient and good design and very important, super easy to clean! We are really happy with this fridge, it has excellent capacity and the drawers store large volumes well. We really like the quick chill mode and holiday power saving mode, super cool! Runs very quietly and very efficient. Conclusion, it save me money on my electricity bill a bit more!
Date published: 2018-09-05
Rated

5

out of

5
by
pepi
from
very good product
We bough this fridge ten month ago and so far we are very - very happy with it.
Date published: 2018-09-05
Rated

5

out of

5
by
Emifive
from
Lots of space
I bought this fridge 8 months ago and l am extremely happy....l often call Electrolux if l have sn issue and they are very helpful and the follow up is amazing.. The representative helps and advises me accordingly..A big thank you to the service guy that comes out to service as they are very efficient and always try to get to the bottom of it..I made a joke..bottom as in bottom mount fridge!!
Date published: 2018-09-05
Rated

5

out of

5
by
Slam
from
!!! BEST FRIDGE !!!
Bought this around 9 months ago. Beat value for the buck especially with the cash back offer. It is quiet, excellent in quality and looks better than any other fridge on the market! Ps. It is also the most energy Efficent as well!
Date published: 2018-09-05
Rated

5

out of

5
by
Nick1812
from
Happy with this fridge
We spent a lot of time researching fridges. This one has excellent features including being very energy efficient. It has operated perfectly since installation. It is quiet and easy to maintain.
Date published: 2018-09-05
Rated

5

out of

5
by
Anthony 258
from
Love the easy roll out fresh zone & multi zone.
It is every thing I require in a quality refrigerator. Meets all my needs. Very Happy with my purchase.
Date published: 2018-08-01
Rated

5

out of

5
by
Alioops
from
Great size and quality
I bought this fridge/freezer a couple of months ago. Love that we could order a right side opening version and really find it a brilliant size for 2 people in an apartment.
Date published: 2018-05-06
Rated

3

out of

5
by
Lee1234
from
Door seal too tight
I bought the Electrolux 453L bottom mount fridge in August 2017 because I had to replace a 30 year old Westinghouse 380L top mount fridge, only because the door seal was starting to break down. Having a bad back, I thought the bottom mount would be easier to use but the seals are so strong that it can be a real effort at times to open the fridge which sort of negates getting a bottom mount because of a bad back. Doesn't help being short either. Because it's 453L, I thought that there would be far more room in the shelving than the 380L Westinghouse, but while the fridge is larger overall the shelving is not as deep. The shelving on the inside of the door is good and is needed because of the loss of depth in the actual shelving in the fridge. The freezer compartments could be considered handy but 'just' fit a long breadstick turned sideways. Happy enough with the purchase, except the door suction can be an issue.
Date published: 2018-04-05
Rated

5

out of

5
by
MichelleLouise
from
Stylish & efficient
I love my new Electrolux fridge with bottom mount freezer. It's simple and stylish. The guys delivered, unpacked and set it up. I'd recommend for a small family. Thank you!
Date published: 2018-02-26
Rated

5

out of

5
by
Gold_88
from
Overall very happy with the product
Love the space, compartments and energy rating. Only downside is the door is hard to re-open immediately after closing, but presumably this has to do with the energy saving mechanisms.
Date published: 2018-02-19
Rated

3

out of

5
by
Andy01
from
Troublesome door
We bought our EBE4507SA-R a year ago, and although yes its silent, has nice shelves, crisper, lighting it does suffer from one issue. When we close the door we have to wait 60 seconds before we can open it again!.. perhaps this is a feature, to keep it sealed or soemething, but it would be nice to have the option to dull it down a bit so we can open it again after getting the milk out! 60 senconds might not sound very long but when you are waiting to put somthing straight back in it is an issue we didnt expect... Apart from that MAJOR issue its a lovely fridge...
Date published: 2018-01-20
Rated

4

out of

5
by
Ksaik
from
Spacious & sleek
The purchasing from AO was very smooth & gives competitive pricing. Delivery to our place was quick too!
Date published: 2017-12-28
Rated

5

out of

5
by
Judd
from
Easy to understand and adjust temperatures
We are very happy with how quiet it runs and its layout
Date published: 2017-12-22
Rated

5

out of

5
by
Filthy
from
Great fridge ice trays are great and easy to use .
Very energy efficient and easy to regulate cold beer.
Date published: 2017-11-29
Rated

5

out of

5
by
Greggles
from
Standard exterior, amazing interior!
The fingerprint resistant St/Steel front actually resists fingerprints. Drawers for bottom freezer section mean the cold mostly stays in when accessing freezer. Super quiet operation. Glass shelving means you can see into the Vegie crisper drawers, right to the back of the drawer. Two crisper/fresh zone drawers is a boon for loads of fresh produce storage. The two dairy shelves with flip top doors have a design where the shelf door flap receeds into the storage compartment, which means if you leave the shelf door open it does not foul into anything when closing the main fridge door (i.e. doesn't get broken). Drinks Chill alarm reminds you of bottles left in the freezer to chill quickly. Reasonably shelfing adjustment options for both main shelves and door shelves. Roller rails for drawers have a solid feel, in fact the interior in general all seems suitably durable (some other fridges seem flimsy).
Date published: 2017-11-29
Rated

5

out of

5
by
catty
from
Extremely efficient
relatively silent with occasional whir. Well lit. Very well insulated - biggest selling point. handle clicks, but husband fixed it with a 0.5mm cardboard shim. temperature display shows planned temperature, not actual. our last fridge was bought in 1990. can't say how much i looove this fridge - it's life changing!
Date published: 2017-11-26
Rated

5

out of

5
by
Kat5
from
Great features
Almost a year ago and very happy Second fridge one for me and one for my partner
Date published: 2017-11-22
Rated

5

out of

5
by
Edna
from
Great features
The fridge itself has a lot of room for everything . I love that you can move all door containers anywhere to fit large bottles . The freezer is fantastic also the only thing missing is a light in the freezer . Other than that it's a perfect fridge for one person .
Date published: 2017-11-22
Rated

5

out of

5
by
mapa
from
Perfect Match
Perfect fit with ultra modern kitchen decor. Looks like it was made fort he kitchen and matches other appliances of stainless steel.
Date published: 2017-11-22
Rated

4

out of

5
by
Gurpreet
from
Good product
I bought it 6 months ago. It's working perfectly fine
Date published: 2017-11-21
Rated

5

out of

5
by
Neil B
from
Top quality, smart fridge
Have had my fridge for almost 12 months and am extremely happy with it. It looks smart inside and out, is quiet, efficient, brightly lit and keeps everything fresh as you could expect. It's built to maximize space for things of all shapes and sizes. It is good looking so is really a proud piece of furniture, nothing like the old fridge it replaced. Clearly Electrolux is a step above other brands in quality, it shows big time. Thanks Electrolux, I will be getting another but don't expect to for quite some time in to the future.
Date published: 2017-11-21
Rated

5

out of

5
by
Donny
from
Complete package
I bought my 453L bottom mount S/S fridge nearly a month ago and it's the best fridge I've ever had. It keeps food cold, has enough storage for the 2 of us and I like the sleek lines it has. Thanks Electrolux.
Date published: 2017-11-21
Rated

4

out of

5
by
Steve64
from
Room at the top!!
The refrigerator is beautifully finished in it's exterior and the timer certainly help in keeping the temperature cool in the main compartment. The depth of the fridge allows for much storage and when carefully arranged, the shelves allow for taller containers and bottles to be stored as well. One wish list would be to have more ample vegetable storage.
Date published: 2017-11-21
Rated

5

out of

5
by
bobf
from
Looks great Works even better
I have had this fridge a few months ago and it has worked an absolute treat from day one It has great features and plenty of room in both the fridge area and the freezer
Date published: 2017-11-21
Rated

5

out of

5
by
benji2
from
453L stainless steel fridge freezer
we bought the electrolux fridge rreezer 1 month ago & it is wonderful.It has some great features which give it extra room. We are really enjoying having
Date published: 2017-11-21
Rated

5

out of

5
by
Lozzy0068
from
Great Fridge
I brought this a few months ago and it's been great. Lots of different draw and sleeve configurations which makes life easy.
Date published: 2017-11-21