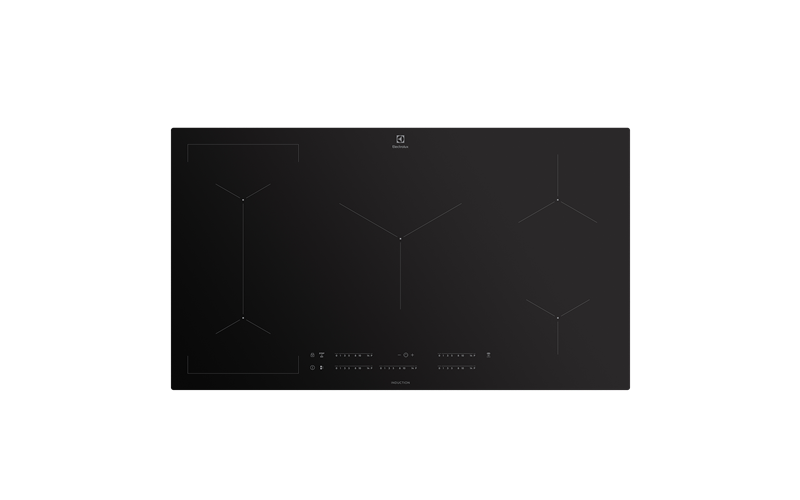 EHI955BD
90cm Induction cooktop.
90cm Induction cooktop.
is rated out of
5
by
9
.
90cm 5 zone induction cooktop with MaxiZone, FlexZone, 14 stage slide controls, Stop & Go and Hob2Hood capability.
Rated

5

out of

5
by
PinVic
from
So easy to use
Had this for a few weeks now and very happy. So easy and intuitive to use and keep clean. The Bluetooth connection to the range hood is really good too.
Date published: 2020-07-25
Rated

5

out of

5
by
Jackie41
from
Easy
I've always had gas cooktops and decided to go induction after love it, it very quick and easy to clean
Date published: 2020-06-05
Rated

5

out of

5
by
kaye14
from
So easy to use
We bought this about a month ago to replace a F&P 90cm induction cooktop, which had to be replaced due to the electrics fouling (only 3 years old). I was not prepared to take a chance on F&P again and as we had an Electrolux induction/ceramic combo years ago we went for the Electrolux. Very happy! Getting used to the 0-14, instead of 0-9 was a bit different but now I know exactly how to get the best out of the cooktop. Our old oven has just gone but unfortunately the Electrolux 90cm oven does not fit into our space - we only have 475mm height available, otherwise I would have purchased an Electrolux oven.
Date published: 2020-05-24
Rated

5

out of

5
by
MellyC
from
Can't fault this product
After using a 60cm cooktop for years I am so happy for the extra space you get with a 90cm. This cooktop is really easy to use. If anything there are too many temperature settings. I find I only use half of them. Easy to clean. The pause function is handy.
Date published: 2020-03-09
Rated

1

out of

5
by
Rocket
from
Nothing but trouble
I bought this 6 month's ago and it has failed on and off from 1 month. I thought it was a user issue thinking it was me or the pans not right but it confined to fail no we got nothing 6 months later. Electrolux tell us parts are coming now just moved it another week back. All the circuit boards need replacing. I have a family of 7 and just spent $20k on a kitchen. I didn't expect this from a big company like electrolux
Date published: 2020-02-17
Rated

5

out of

5
by
Wilpy
from
The pick of the 900mm units!
We had an Electrolux slimline EHD90200D 900mm three zone induction for about a decade and it was great. When the time came for an upgrade, I was open to anything, but had been spoiled by the three 2300W zones, each with 3000W boost. After far too much research and an Excel spreadsheet later we were down to this unit and the very similar EHI997BD unit with Chef Mode. Both of these units really undersell their 5kW+ centre zone. I do t know why, but it's almost impossible to tell this without reading the manuals (which I did, due to being a nerd). Goes great with my induction paella pan! The EHI955BD was a much better price when we bought it, and the only difference between the two was the left zone. In the *955, it is two separate 2300W zones (plus boost) with a cool link function for big trays / griddles. This actually is better than we thought and super easy to use. Added bonus is these two zones are the essentially the same as two of our old three zone unit (with a bit more boost). I couldn't really think of what I'd use the EHI997BD's Chef Mode for; although cool, the touch controls for the linkable two zones on the EHI955BD and the instant heat control (on both) render the function cool, but not too useful for the cooking I enjoy. That's why I recommend the EHI955BD. Only thing for me to get used to is the 14 temperature steps, instead of the more logical 9 I was used to, and the different wattages of the front and rear right side zones.
Date published: 2019-11-30
Rated

4

out of

5
by
Wayne2
from
Induction cooktop
Excellent induction cooktop, easy to use & clean, love the 90cm width for room to have multiple pans on stovetop at once, also the ability of auto stove to hop feature is great, very slimline blends in well with my granite bench top. Would rate this appliance 4.5
Date published: 2019-11-24
Rated

5

out of

5
by
Ella26
from
Excellent Cooktop
We are very happy with our new Induction cooktop. Electrolux 90cm 5 Zone. Very easy to use, just slide your finger and choose the correct temperature...Oh and I love the "HobtoHood" connectivity....even our friends are impressed..with all the functions of our new cooktop and rangehood. Thumbs up to you Electrolux. Thank you !
Date published: 2019-11-16