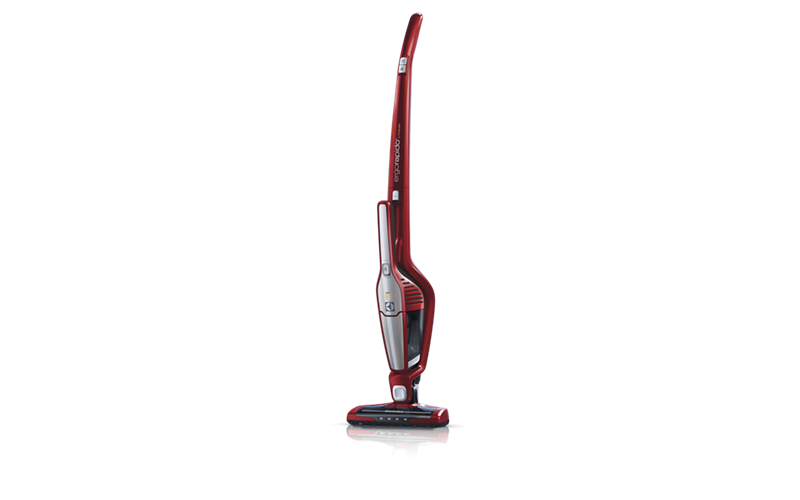 ZB3112AKB
Ergorapido Series 5 Watermelon Red Plus
Change the way you clean. Engineered power, designed convenience. The new generation of Ergorapido is the only high performance cordless vacuum with 2 in 1 versatility, 180° Easysteer™ manoeuvrability and unique BrushRollClean™ technology. Now features lithium battery across the entire range, providing more suction power and longer run time. Its low centre of gravity design makes Ergorapido very easy to glide, and feels super light on your hands (around 500 grams*). PLATINUM SERVICE
Rated

4

out of

5
by
Suze2639
from
Better than expected
Bought a couple of weeks ago & find it's got better than expected suction & lasts long enough for me to get around the whole house! Only negative is it's pretty loud. Great product
Date published: 2017-12-10
Rated

5

out of

5
by
DC2017
from
Treat yourself!
Being a busy mum who often has people just pop over unannounced, I've found this little gem so quick and handy! Having clean floors is now finally achievable, handy for a crawling bub! Don't spend more on a more expensive brand this unit is excellent!
Date published: 2017-11-30
Rated

4

out of

5
by
SHIFTT
from
Awesum for the 9-5 but keeps stuff clean sorta guy
righto got this bout a year ago because mum had one thought it looked simple . Didn't think much of it at first was a little noisy an i couldn't feel it suck the carpet like a normal vac but as time went on the more i used it i couldn't believe the work it was doing yeh its a little noisy but thats was reliable performance sounds like an ok it doesn't lift the carpet either but with the spinning head it doesn't need to i have a cat and i use this thing in the shed the stuff i empty out after a couple of uses is crazy !!so yes i love it it suits my needs perfect i recommend to anyone serious you need to try it !!
Date published: 2017-11-15
Rated

5

out of

5
by
Marie
from
So versatile and looks great.
I purchased this item 3 weeks ago. Initally was only going to purchase a dustbuster, but was not impressed with what I found. Ended up with this one and so happy I did. I no longer use a broom on my timber floors. Quick and easy to use and the added bonus of the dustbuster and it looks great. . Love this item. Highly recommended.
Date published: 2017-10-05
Rated

2

out of

5
by
Vac with Pat
from
Poor suction and short battery life
I bought this today and I am severely disappointed. It claims a 45 min operating time, which is more than double the length of time the similar Dyson will last. But Electrolux cheats with that statistic: it lasts 45 min at lower power, which the user manual advises against. In general this vacuum sucks, but not as it should.
Date published: 2017-09-29
Rated

5

out of

5
by
doz23
from
Time saver,great for pet hair.
I bought this vacuum a couple of weeks ago after reading all the positive reviews and so far I'm very happy with it's performance.The suction is so much better than the stick vacuum I had before.The only thing I can comment on is there is nowhere to store the accessories on the machine but it's no big deal,I leave them handy to get to.
Date published: 2017-09-02
Rated

5

out of

5
by
Chrissie
from
Very convenient product
I am so pleased I decided to purchase this particular product a month ago - it is quick and easy to use, easy to store and meets all my requirements.
Date published: 2017-08-20
Rated

5

out of

5
by
Shaz
from
Great stick vac with easy manouvering
We bought our Electrolux Ergorapido series 5 Watermelon Red Stick Vac a few weeks ago. We are both very happy with its suction & manouverbility. I had to spend a week in hospital unexpectedly, so it was great that my hubby could just pick it up & go! Our floors were spotless on my return home.
Date published: 2017-08-19