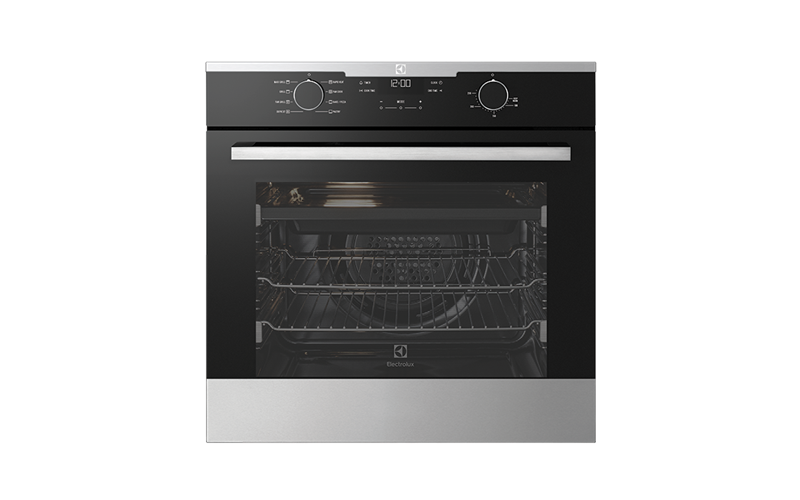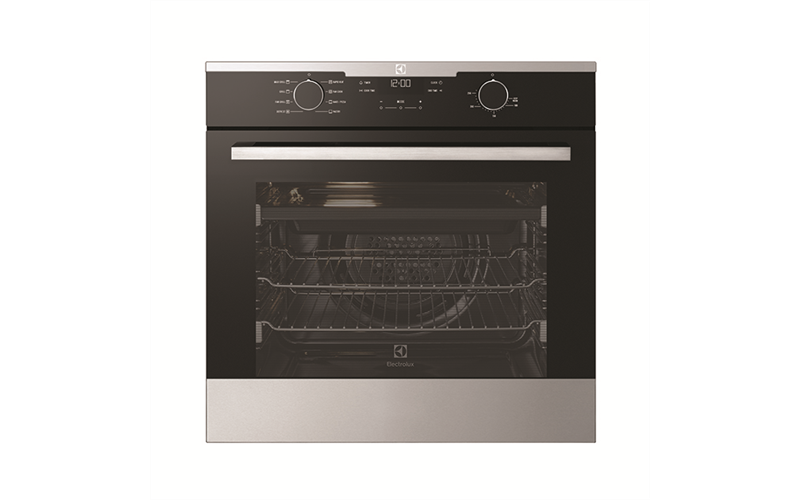 EVE614SC
Multifunction 8 oven with knob controls
Multifunction 8 oven with knob controls
is rated out of
5
by
23
.
Multifunction 8 oven with knob controls and telescopic runners
Rated

5

out of

5
by
Grant75
from
Wonderful value for money!
Cooks evenly , heats up quickly, wonderfully lit inside oven. Shelves slide easily. It replaces an expensive oven and does everything considerably better.
Date published: 2018-12-02
Rated

5

out of

5
by
Rony78
from
Easy to operate Electrolux EVE614 Oven
My 46 year old kitchen was showing its age prior to a complete renovation 10 months ago. After investigating many other brands and models I purchased this very modern smart looking Multifunction Oven with 8 function settings. I have previously owned Electrolux products so felt confident in my choice. I really like the Rapid Heat and Keep Warm settings as well as the choice of other settings such as Grill, Bake, and Fan Cook to name a few. The choice of 7 shelf locations for the 2 conventional shelves, flat tray, and grill tray provides for all situations further enhanced with telescopic rails at 2 of the locations. These make it so easy to safely load and unload a shelf when in the outer position and easily rolled in without having to have hands and arms actually in the hot oven cavity. Having used it now for 8 months, I know I chosen well.
Date published: 2018-09-08
Rated

2

out of

5
by
Margie51314
from
Love the look.
Yes I love the look of my new oven which I purchased last December. Unfortunately I cannot seem to manage the temperature as even though I have checked the temp with a gauge it seems to be too hot especially for cakes, I can't seem to find a happy medium with things I have cooked heaps of times in previous ovens. I do need help with this. There must be something I just do not understand. Also the knob on the right hand side which I use for the temperature is starting to become damaged around the edges, presumably from heat from the oven. I have been meaning to contact you for a long time regarding these issues, you must have read my mind. Would love to hear from you with helpful advice.
Date published: 2018-09-05
Rated

2

out of

5
by
Gaylene
from
Control panel gets hot after oven turned off
I had this oven installed a few weeks ago and am concerned about how hot the control panel and surrounding cabinet work gets after the oven has been turned off. It's fine while the oven, and fan, are on but gets hot and stays hot for over an hour once oven has been turned off. Should the fan keep working after the oven is turned off as it does for other ovens? Or do I have to manually keep the fan on until the control panel and adjacent drawers have cooled? I've tried to ask Electrolux by email (sent over three business days ago after giving up waiting on the phone) but have had no answer.
Date published: 2018-08-22
Rated

4

out of

5
by
clark
from
fast pre heating
i have been impressed so far with ease of use and length of time it takes to preheat
Date published: 2018-08-08
Rated

4

out of

5
by
Quickshot
from
Nice clean looking oven with modern features
Im happy at this stage only time will tell if it lasts the test
Date published: 2018-07-13
Rated

3

out of

5
by
Annette
from
Very Modern looking in my kitchen
Purchased a few weeks ago and the first day I had it I had to ring for service. The Panel across the top, knobs, my kitchen bench and the timber panel above the oven was found to get extremely hot to touch and took a long time to cool down way after the oven was turned off. The Panel was not hot whilst oven was turned on but as soon I turned the oven off the upper section got extremely hot and burnt my fingers. Service guy said that it was still under the Australian Standards for temperature which I found a bit bizarre if I could not touch it. I now have to leave the Fan Oven button turned on for about 1 hour after I have turned off the temperature knob to prevent the supper section of this oven from getting so extremely hot. I like the sliding trays that come right out over the door when requiring to check dishes, this is an excellent feature and mainly why I purchased this model.
Date published: 2018-05-24
Rated

4

out of

5
by
Cookies Cake
from
Good Australian oven
We chose this Australian oven to replace our original under bench oven of 25 years. The controls are easy to use and the telescopic arms are very useful. Two items have come to our notice that would improve this product. The first would be to back light the functions options. Hard to see with writing on black background. Secondly the option to just hit timer without having to toggle through the 4 options. The oven has already been put to good use.
Date published: 2018-01-22