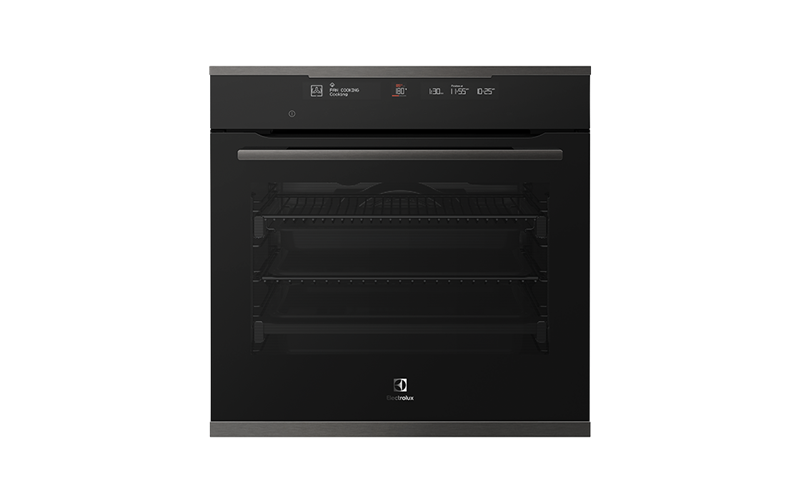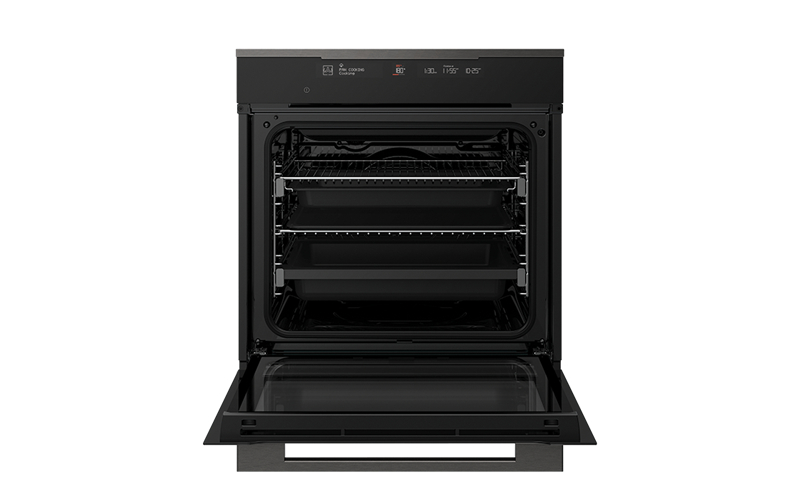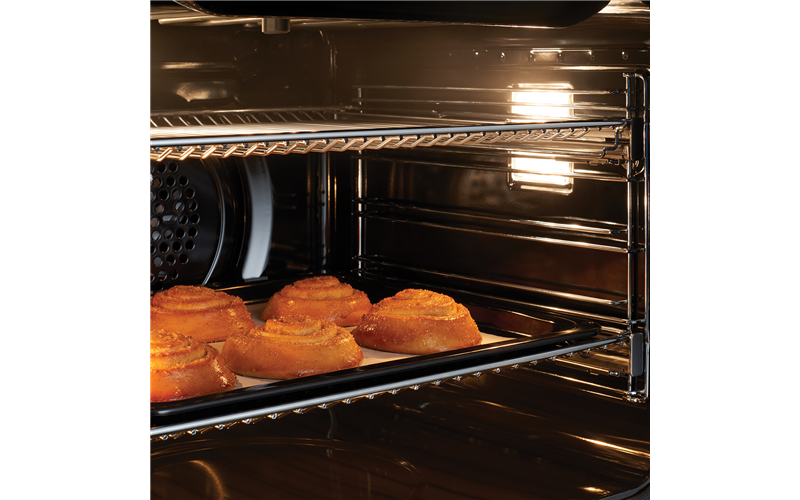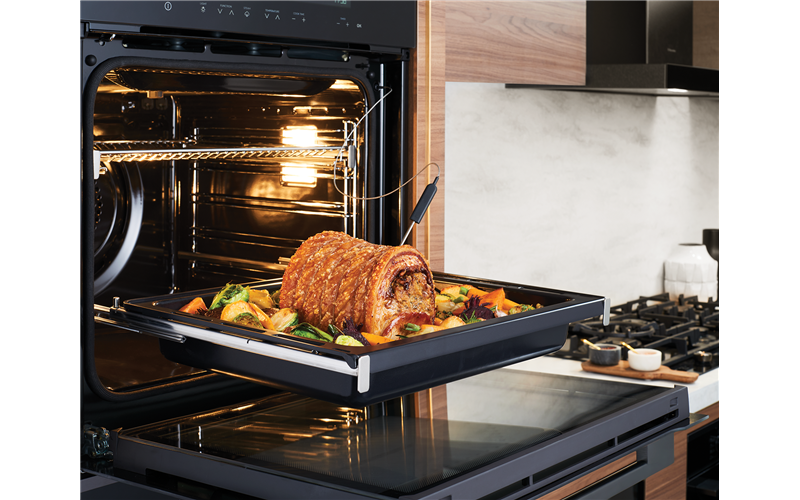 EVEP616DSD
60cm dark multifunction pyrolytic oven
60cm dark multifunction pyrolytic oven
is rated out of
5
by
6
.
60cm Dark stainless steel 13 multifunction oven with Bake +Steam, pyrolytic cleaning, Intuitive Oven Interface and Smart Food Probe.
Rated

2

out of

5
by
BradG
from
Great Functionality But Poorly Made
Bought this oven from Winning Appliances in August (2019) while renovating our kitchen. We really liked the features and functionality when demonstrated in a store. This was confirmed once we installed our unit. Cooks brilliantly... can't complain about that. However, the unit is so dimensionally inaccurate that the installation was a nightmare. All our cabinetry is perfectly square and level yet the oven had to be shimmed on one side by an unreasonable amount and the front face of the cabinet had to also be altered in order to get this oven looking barely satisfactory. The main door (which includes the handle is misaligned with the top control panel. The front face is 5mm deeper at the top than the bottom which means it is impossible to achieve a properly aligned correct flush fit without major and unreasonable adjustments to the supporting cabinet. I have an engineering trades background and in my opinion, this unit is so poorly made that I almost can't believe it. Even the main handle has a gap on one side where it is fastened to the supports. What I would really like is an Electrolux representative to take a look at it and organise a full replacement (at no cost to us) if our unit is somehow different to the norm. If you are someone who is not particular and don't care about things looking aligned and properly fitted then this unit is probably a reasonable choice.
Date published: 2019-10-02
Rated

5

out of

5
by
ChrisTrish
from
Excellent Oven
Our oven decided to give up 2 days before we had a big family function and we were in charge of the family roast! After much rapid research and comparison, we decided to replace our 17 y.o. Electrolux oven with another Electrolux. My wife liked the sleek finish of the Touch control models so that limited our choice somewhat but we were able to find the EVEP616DSD for a good price, booked the electrician for the next morning and went and picked up the oven from our chosen retailer. Sadly, the retailer sold us a "Demo" model and that was not discovered until the unit was unpackaged. I tried to attempt to return the unit to the retailer but they assured me the unit would be ok. This was not the case and that resulted in us having a real challenge to get the Electrician back later that same day (on a Saturday!) to install a replacement unit that the retailer kindly sourced from another store and delivered to our house and took the Demo unit away. Maybe a big "DEMO" sign on the OUTSIDE of the packaging the same as you have on the actual unit would help the retailers not make that mistake again? The retailer firmly blamed Electrolux for the mix-up as they seemed to have more "Demo" units in their stock-room than "Retail" units and they opened 4 of them! Once we finally got the unit installed after a very stressful day, it is a delight to use. Fast to heat up, cooks evenly.. Love the LED lighting and the fact you can turn the lights on & off during cooking. When we renovate the kitchen soon we will be putting a second same oven side by side. Will definitely be getting another Electrolux!
Date published: 2019-09-21
Rated

5

out of

5
by
Leanne123
from
Great features
I have had this oven installed for 4 weeks now, I couldn't be happier. It is easy to see the options of cooking. First dinner cooked was a roast, fantastic. So glad I bought it.
Date published: 2019-08-17
Rated

5

out of

5
by
Baza
from
Value for money
I purchased this oven a month ago and are pleased with the performance.
Date published: 2019-08-11
Rated

5

out of

5
by
Tom Ngu
from
Great feather,easy to use.
I bought this on last month. To me every alright, I am happy with this.
Date published: 2019-07-13
Rated

5

out of

5
by
wagorn48
from
Multifunction Oven, Model No EVEP616DSD
The oven is fantastic, loads of useful functions such as telescoping shelves, easy operation of all the dials/knobs. Had problem with the oven,Electrolux installed a new oven at no cost.
Date published: 2019-06-11