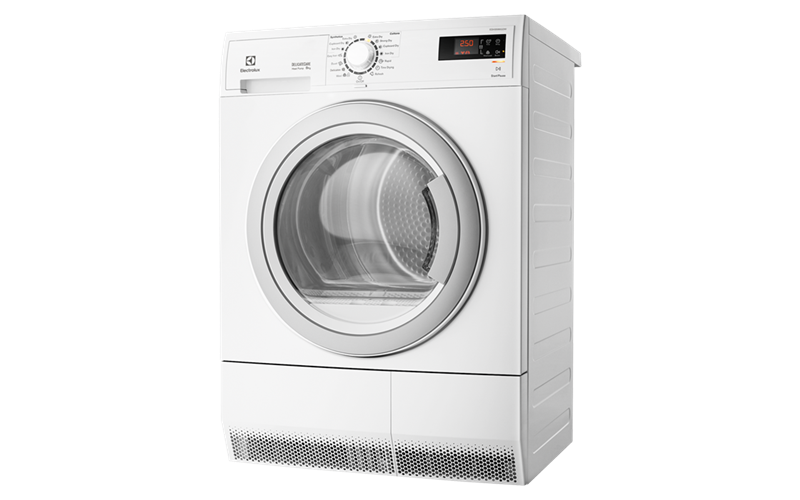 EDH3586GDW
8kg Heat Pump Condenser Dryer
8kg Ultimate Care Heat Pump Dryer with 5.5 Stars Energy rating, Advanced Sensor Dry, reverse tumbling action and Refresh cycle.
Rated

1

out of

5
by
Rhondy58
from
Dissapointing
Takes hours to do any sought of drying - does not matter what setting you are on...... Can not just throw clothes in to be aired as dryer will keep stopping - will never buy a heat pump dryer again.....
Date published: 2018-02-03
Rated

4

out of

5
by
RodneyM
from
Excellent appliance
This dryer has great features and works well, as long as you change the heat settings to "more dry" or "maximum dry" found on page 11 of the manual, chapter 8.2 ( Adjustment of the remaining moisture degree).
Date published: 2018-01-28
Rated

4

out of

5
by
rwalker
from
Expensive, but less power usage and less heat
After having a regular dryer for years, this dryer has been fantastic. Not sure what issues others are having with clothes being damp, but as long as you're draining correctly, and you don't let fine lint etc build up in front of the condenser, it seems to work fine, and it uses far less power than previous dryers we've owned.
Date published: 2018-01-07
Rated

1

out of

5
by
phenonm
from
This is not a dryer - it drys nothing
This dryer is nothing short of rubbish, it can take up to 5 hours to dry a small load of towels and no matter the settings you change, read the manual backwards, clean the filters, do small loads, it takes hours and still things are damp. I really wanted a dry laundry and spent the extra on this heat pump dryer, my laundry is dry and cool, but now my clothes are wet and musty - worst appliance purchase i have ever made
Date published: 2017-12-29
Rated

1

out of

5
by
Dave in Wahroonga
from
Dissapointed
Even on exra-dry mode my clothes come out still a bit damp. (and no i dont overload and I dont mix heavy clothes eg jeans with light)
Date published: 2017-08-28