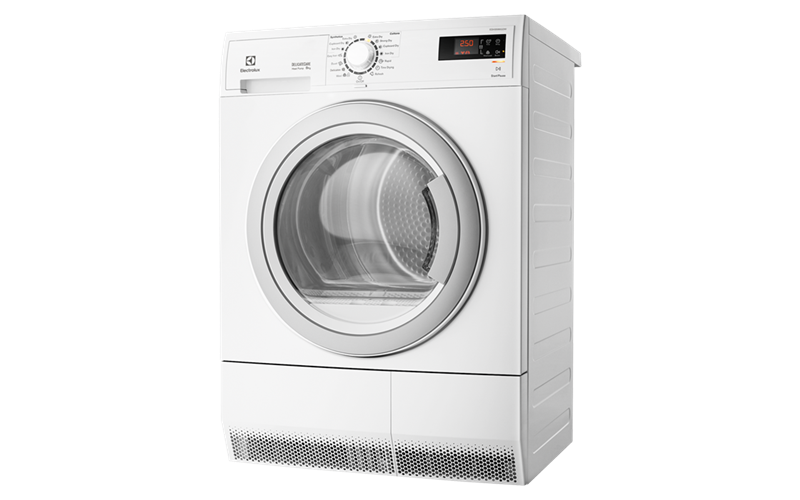 EDH3586GDW
8kg Heat Pump Condenser Dryer
8kg Heat Pump Condenser Dryer
is rated out of
5
by
10
.
8kg Ultimate Care Heat Pump Dryer with 5.5 Stars Energy rating, Advanced Sensor Dry, reverse tumbling action and Refresh cycle.
Rated

5

out of

5
by
Leighion
from
Works like a Charm
Efficient and quite. This dryer does what it says on the box. Highly recommended.
Date published: 2018-09-05
Rated

5

out of

5
by
Jeanie
from
Beautiful results
Waited a long time for a dryer - Electrolux is well worth the wait.
Date published: 2018-07-29
Rated

5

out of

5
by
Kgoray
from
Awesome product
This dryer works perfectly! I was a bit hesitant because of all the negative reviews but I went ahead because I've previously owned an Electrolux condenser dryer and was very happy with it. Like every appliance, it helps to read the instructions before usage. Page 11 section 8.2 is where you can change the level of moisture/dryness in the clothing. It seems that all of the people that left negative reviews complaining that their clothes weren't dry after two hours, hadn't read the instruction manual prior to use. Overall I'm a very happy customer of this product and of appliances online who delivered, installed and removed my old dryer. They were a great company to deal with and I'll be using them again in future.
Date published: 2018-07-10
Rated

3

out of

5
by
Grant
from
It's okay but sheets roll into a ball ⚽️
Great to have a condensing dryer but much slower than a conventional one, but perhaps that's the price you pay to have no damp/water in the air. Major issue is that sheets go into balls and do not dry properly. Not good for a modern appliance
Date published: 2018-06-22
Rated

5

out of

5
by
Dallas
from
Great Dryer
I have had this dyer for just over 6 months and it is brilliant. It does dry the cloths well. Mind you I think with heat pump and condenser dyers are only really usable in confined spaces (small laundries- i.e perfect for an apartment). So perhaps the sales person did not disclose this piece of information and looking more a t a bonus than good service. I would high recommend especially for apartment owners. My only criticism is that the cycles should have cycle option especially when drying sheets as they just end up in a knot and don't dry with one direction in rotation.
Date published: 2018-06-21
Rated

1

out of

5
by
Rhondy58
from
Dissapointing
Takes hours to do any sought of drying - does not matter what setting you are on...... Can not just throw clothes in to be aired as dryer will keep stopping - will never buy a heat pump dryer again.....
Date published: 2018-02-03
Rated

4

out of

5
by
RodneyM
from
Excellent appliance
This dryer has great features and works well, as long as you change the heat settings to "more dry" or "maximum dry" found on page 11 of the manual, chapter 8.2 ( Adjustment of the remaining moisture degree).
Date published: 2018-01-28
Rated

4

out of

5
by
rwalker
from
Expensive, but less power usage and less heat
After having a regular dryer for years, this dryer has been fantastic. Not sure what issues others are having with clothes being damp, but as long as you're draining correctly, and you don't let fine lint etc build up in front of the condenser, it seems to work fine, and it uses far less power than previous dryers we've owned.
Date published: 2018-01-07