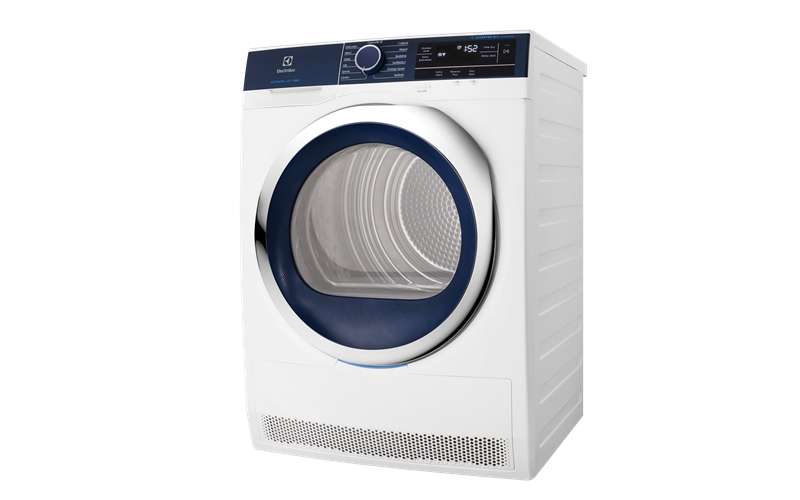 EDH803BEWN
8kg Heat Pump Dryer
8kg Heat Pump Dryer
is rated out of
5
by
7
.
8kg Ultimate Care Heat Pump Dryer with 7 Stars Energy rating, Woolmark Blue certified, Advanced Sensor Dry, reverse tumbling action and Refresh cycle
Rated

4

out of

5
by
Peanut
from
Great value for money
I bought this for my daughter. It has all the features she will need and she is more than happy with the results
Date published: 2019-09-08
Rated

5

out of

5
by
updave
from
Best dryer I've ever used
We bought this after our old 2 star vented dryer finally kicked the bucket. This heat pump dryer is another world! Yes, it doesn't dry as quickly but that's the only downside... and for us, so far hasn't caused a problem. Love the fact the water is saved in an easily removable plastic tub and we use this to water our house plants! Win win.
Date published: 2019-09-06
Rated

5

out of

5
by
Zamira
from
Great product
This dryer does exactly what I'd hoped. It dries clothes to varying degrees of dryness depending on your requirements, and it is super efficient. It doesn't over-dry, and I particularly like the anti-crease cool tumbling feature. Very happy!
Date published: 2019-09-06
Rated

5

out of

5
by
Graters
from
Really nice unit.
I have got to say I was worried buying a heat pump dryer. Very expensive and mixed reviews on the previous model. It works very well but it does take time for a full load to be dried completely around 3-4 hours sometimes but it is so quiet I just leave it on overnight. It is amazing that it doesn't generate any humidity and the water extracted from the clothes can water the plants or run through the drain tube into the garden.. My washer is a front loader with 1200 rpm spin. If you have an older washer with slower spin I'd wonder if this would be a problem for how long it takes to dry. Anyway it has a dryness sensor and after calibrating it to the water hardness level the sensor works very accurately by prolonging the cycle until things are perfectly dry. Synthetic settings seem to work great too but it is weird how the clothes come out cool not hot. I can see how this trips many people up but it means less damage to clothes and I haven't experienced any shrinkage. I've put woollens in too which is a great feature. If this last 5 years I think it will pay for itself. 7 star rating uses half the electricity of a standard 8kg sensor drier 2 star unit. If you do 5 loads a week that ends up around 250 in elec savings per year. In 4-5 years it's paid for itself! Only 2 year warranty for a refrigerant system is disappointing given most fridges have 3-5 years and even though it has an inverter motor to turn the drum there's no 10 year warranty on that like Electrolux washing machines which is disappointing. However you can extend factory Electrolux warranty to 5 years for an extra 300. I elected not to this time around. Hope I don't regret it!
Date published: 2019-09-04
Rated

5

out of

5
by
Isha
from
Great product!
Great product, 1 bought 1 week ago, only wish is that I bought the larger 9KG model as I thought 8KG was the biggest.
Date published: 2019-08-14
Rated

5

out of

5
by
das13
from
LOVE it
Updated to this dryer and will never go back to a normal dryer again. Dried a woollen jumper in this dryer, I have never done that before and it came out great. Love how this dryer looks and worked. It is easy to use and cant say any more positive things about it, just LOVE IT.
Date published: 2019-07-07
Rated

5

out of

5
by
Rozzy
from
10 out of 10
Simple to set up and easy to use. No manual required. Massive opening makes it easy to load/unload. Controls are clear and the results of drying are excellent, I actually feel like the clothes and linen come out looking and smelling fresher than they went in!
Date published: 2019-06-02