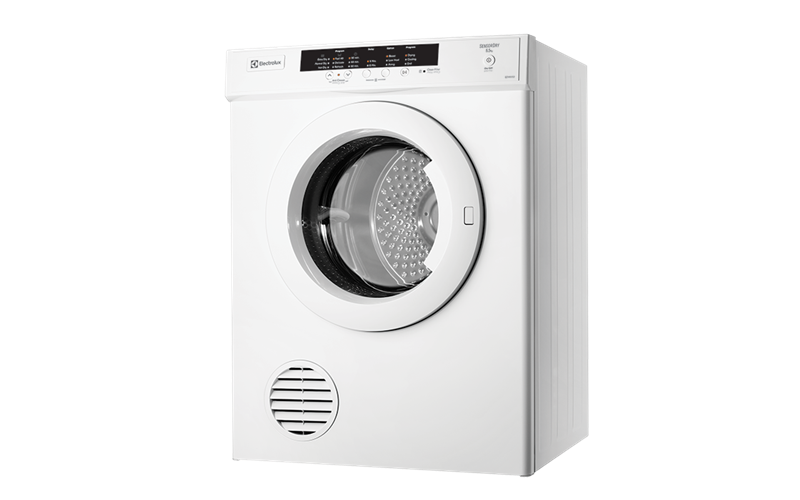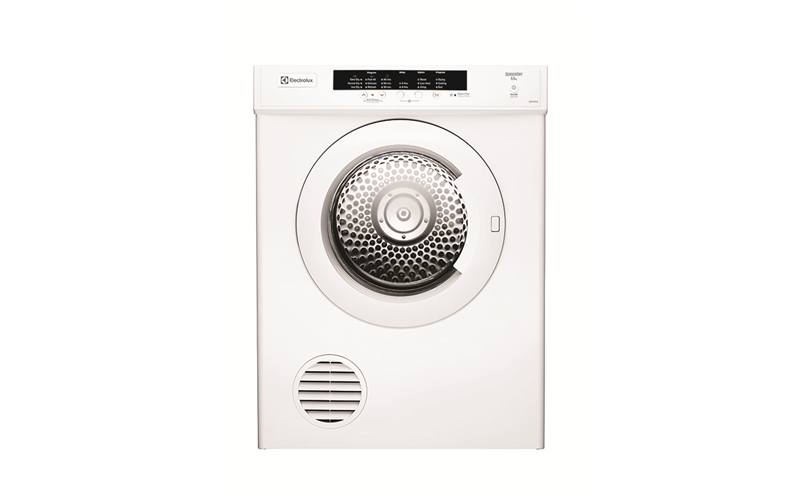 EDV6552
6.5kg Sensor Dry Clothes Dryer
The 6.5kg clothes dryer comes with Sensor Dry to gently dry your garments for an exceptional result. Other features include ideal temperature settings, Fast 40 program, reverse tumbling action and anti-crease option.
Rated

5

out of

5
by
Gaih
from
Great Clothes Dryer
Loving my new Electrolux EDB6552 Clothes Dryer, clothes seem less creased when dried, than my previous dryer, dries quickly & it's very quiet
Date published: 2018-06-30
Rated

5

out of

5
by
shinko
from
Quiet and efficient
Bought this to replace an existing Electrolux that had died. It's quiet, easy to user and efficient, though takes slightly longer than my older model (which was 2 years old)
Date published: 2018-06-27
Rated

5

out of

5
by
GMKK
from
I love this dryer!
I had originally chosen another dryer and when it was out of stock, Appliances Online offered this Electrolux dryer at the same price. I'm so glad they did! It dries my washing beautifully - doesn't take anywhere near as long as my previous dryer and is SO gentle on the delicate cycle, everything comes out (almost) looking like it's been ironed! I had a jumper that had changed shape in the wash 2 years ago, I put it
Date published: 2018-06-26
Rated

5

out of

5
by
musical
from
A great budget choice
I've had my Electrolux dryer for two months and I love it! Clothes are always dry if I use the boost program. Other programs are designed not to be completely dry so don't use them. It's quick and works everytime
Date published: 2018-06-23
Rated

4

out of

5
by
Fossil
from
Easy to follow programmes
This dryer replaced our 38-year-old dryer. I like the fact you have options to choose from when using the dryer. I would've liked to have the ventilation tube included with the product and the lockable door appears to be a little fragile.
Date published: 2018-06-20
Rated

5

out of

5
by
cmck
from
Dryer operating perfectly. Good purchase
Dryer operating perfectly. Good purchase. Very happy with Appliances Online. Great price, delivery on time with no issues
Date published: 2018-05-26
Rated

5

out of

5
by
Diamondrose
from
Terrific Dryer!
We bought our dryer to sit on top of our washing machine. The dryer is quiet enough, dries the clothe very nicely and lets us know when it is finished. What I really like about our dryer is that it doesn't just turn one way, it will start one way, stop for a second then change course:) It is designed that way so the clothes don't crease too much. I am also especially fond of how easy it is to use! We are more than happy with our dryer!!
Date published: 2018-05-17
Rated

5

out of

5
by
Vandaman
from
Best Dryer I've Ever Purchased
Brilliant dryer. I can't recommend it enough. Best features... 1) Set and forget. It automatically detects moisture and will stop itself when the job is finished. There are a myriad of options, but I only use the default. I turn it on and press start. 2) It's so quiet!! I didn't realise how much I would value this feature, but I can use the dryer when I go to bed and won't hear it. 3) It's so fast. Literally takes no more than 20 minutes for a full load to get dry. My only disappointment, but it's the case with all lower cost whitegoods these days, is that the door glass is actually plastic, so it doesn't quite feel as luxurious as the name would suggest. But I can forgive this for the price. My previous dryers I've had to go back and forth checking to see if the load is dry, adjusting time, and an hour later, I might be lucky to have the job finished. Not with this one. Highly recommend.
Date published: 2018-05-03