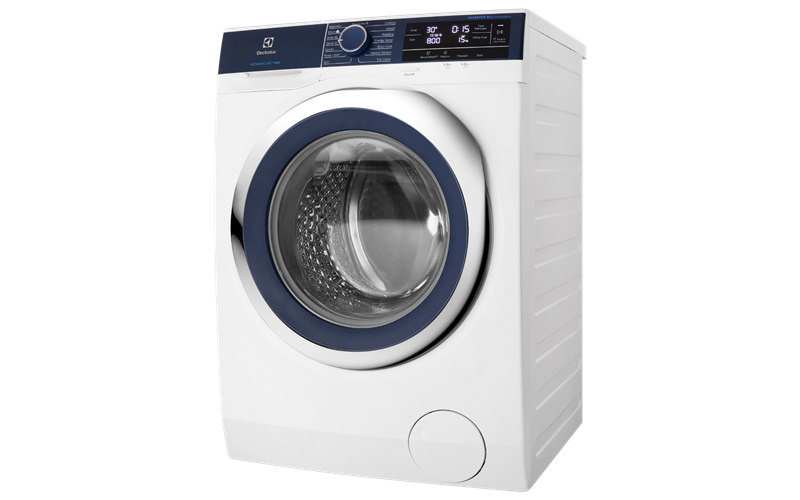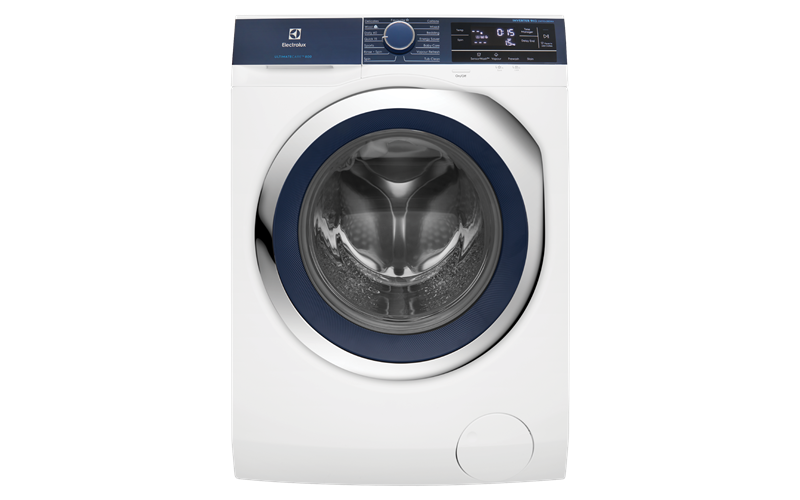 EWF9043BDWA
9kg front load washer with SensorWash
9kg front load washer with SensorWash
is rated out of
5
by
20
.
9kg front load washer, with 5 star energy and 4.5 star WELS rating. The washer features the latest SensorWash technology, UltraMix System, Woolmark® Blue Accreditation and Vapour Refresh options
Rated

4

out of

5
by
gemini
from
Great wash with quiet running
Washs clothes really well on the different settings. Quiet running, low water usage, clean clothes, really can't ask for more !
Date published: 2019-10-20
Rated

5

out of

5
by
Nemo
from
Very quiet
I have only had the 9kg machine for about a week and I'm loving it. This machine replaced a 10 year old Electrolux 7kg machine, so we are still learning all of the settings and programs. It's very quiet, I've had to open the laundry door and look to see if it is on a few times. I do have one complaint, the top transit bolt was very hard to remove, the other two were very easy. I love that I can set a favourite cycle for everyday use and even the teenagers in the house can work out how to use it. The first wash cycle to clean out the machine from factory settings was a little bit long (3 hours), but it's worth following the set up instructions if you want your machine to last. I highly recommend Electrolux washers, as I have already stated, my last machine was 10 years old and as a big family (7 people) it did us well. I hope this machine lasts as long.
Date published: 2019-09-27
Rated

5

out of

5
by
Alli
from
First time having front loader
First time ever having a front loader and so far I'm loving it. So quiet and cleans the clothes so much better without losing there shape. Decide on Electrolux after looking and reading reviews and for the price and value I can not fault it. Great product and good instructions ⭐️⭐️⭐️⭐️⭐️
Date published: 2019-09-25
Rated

5

out of

5
by
Miss Daisy
from
Easy to use
Overall I am happy with this appliance however I wish it had a full cycle using cold water only.
Date published: 2019-09-01
Rated

3

out of

5
by
SueRob05
from
Mixed blessings with this washing machine
I like the look of the front but the sides are flimsy and easily dented. It has a good range of cycles and cleans well but makes towels scratchy. There's no point in putting fabric softener in because the towels always end up like that.
Date published: 2019-08-30
Rated

5

out of

5
by
BradBoy
from
So far so good
Washes clothes with great results. Easy to use very quiet and happy with the purchase.
Date published: 2019-08-22
Rated

3

out of

5
by
Kellycreal
from
Disappointing
Bought this machine at the end of July and returned it to the store for a refund last week. After having wonderful experiences with our last two Electrolux machines, we were disappointed with the performance of this one. We found undissolved powder in the dispenser after a hot wash and on two occasions there was powder residue on our clothes after a cold wash. We also found stains on clothing that weren't visible before they went through the wash - we think maybe caused by fabric softener. Very disappointing because Electrolux was always our brand of choice in the past.
Date published: 2019-08-21
Rated

5

out of

5
by
BDowney
from
I was lucky enough to test this!
Betta allowed me to test it. I LOVE IT! I had a rather rickety old Bosch prior to this, circa 2000 and whilst it was adequate, I was thrilled to have the opportunity to test a sparkly new one. It is as superb as the 5 * energy efficiency. I love its quiet. I love there seems to be a program for everything you can possibly wash. I love there are short, thorough programs. I love the water efficiency rating of 4.5 - as I'm on tank water. What with my solar panels, it basically costs nothing to run and my clothes come out white (and right) first time. It's total peace of mind, no need to re-wash anything as the results are never disappointing. Thank you for letting me test this awesome machine!
Date published: 2019-08-02
Rated

5

out of

5
by
das13
from
Just the BEST Washing Machine
First front loader I have brought and simple LOVE it. It is easy to use, great variety of programs and for the first time EVER I washed a woollen jumper in a washing machine and it came out great. I would highly recommend this maschine, it is everything they say and more. I like doing washing now.
Date published: 2019-07-07
Rated

5

out of

5
by
Delle
from
A gentle hand in your laundry
This machine replaces my outgrown 4-point-something kg top-loader. I was concerned that it would not fit in the same place as my old machine, however there is merely a cm difference in depth and width. I have restricted access, so the wide opening is really handy. The Ultramix is a great help, in that it premixes your detergent so your water can remain at lower temps and still not leave streaks of detergent on your clothes. And for the die-hard top-loader fans, there is a pause function to add that last sock, AND you can easily modify the length of your wash. Even the less sensitive washes are gentler than the most sensitive wash of my top-loader. The options on the dial are fairly straight forward and I look forward to using the timer to delay my wash so my clothes dont sit crumpled waiting for me to return. A big thanks to my local Portland Betta, who delivered and installed with a smile.
Date published: 2019-06-20
Rated

1

out of

5
by
regretbuyElectrolux
from
Very stupid washing machine!
Bought this washing machine last weekend, already want to return or sell it now. This is the most stupid washing machine I'd been used. Most program take 2-3 hours to finish, double time than my old washing machine(another brand). Just wanted to simply rinse and spin one jumper, it took one hour! The washing results are just so so. I used "cotton" program to washing a normal load of clothes. It took 2 hours and 40 minutes. My old machine could do this job in 1 hour and 40 minutes. And I couldn't see any differences. Electrolux doesn't make clothes cleaner, but costs more time. When I just wash 2-3 clothes, I don't put too much liquid detergent, in my opinion, this is common sense. But if I put a small amount of detergent, the detergent can't go through detergent flap. After washing, most detergent will be still in dispenser drawer. I can't use prewash and delay functions, when I use liquid detergent. I totally can't understand why a washing machine can be designed like this! If you have lots time to waste on laundry, this is the perfect washing machine.
Date published: 2019-06-03
Rated

5

out of

5
by
Beryl
from
Love the quick wash
Can complete all the washing in half the time leaving more time to enjoy the other things in life
Date published: 2019-05-21