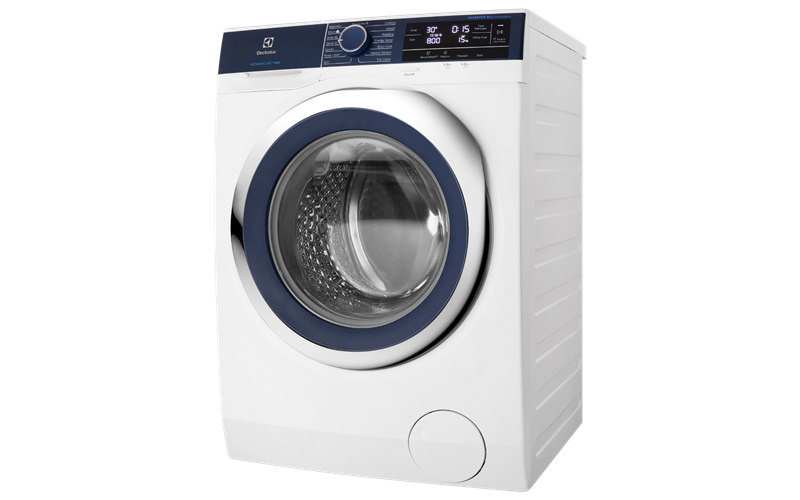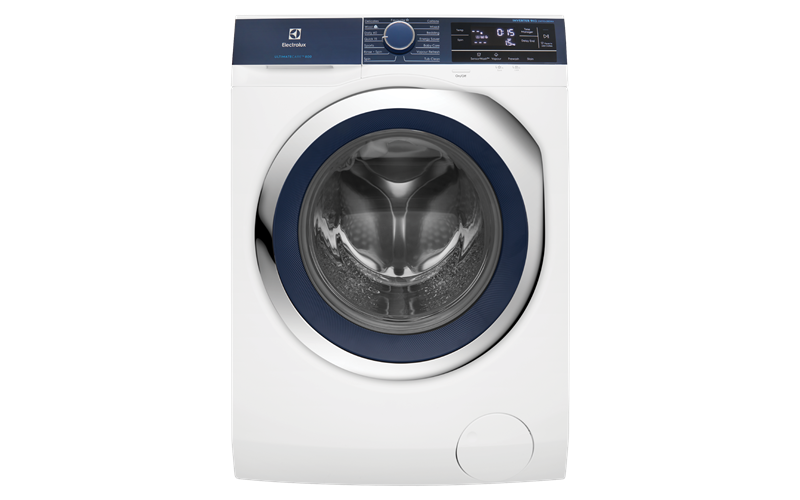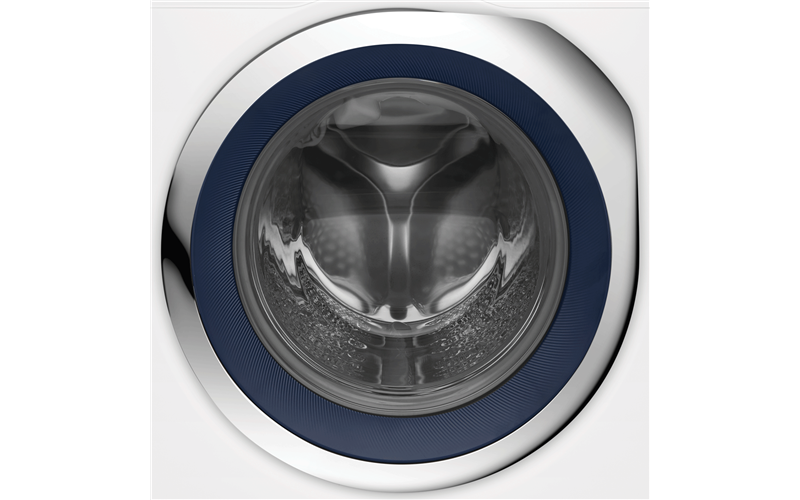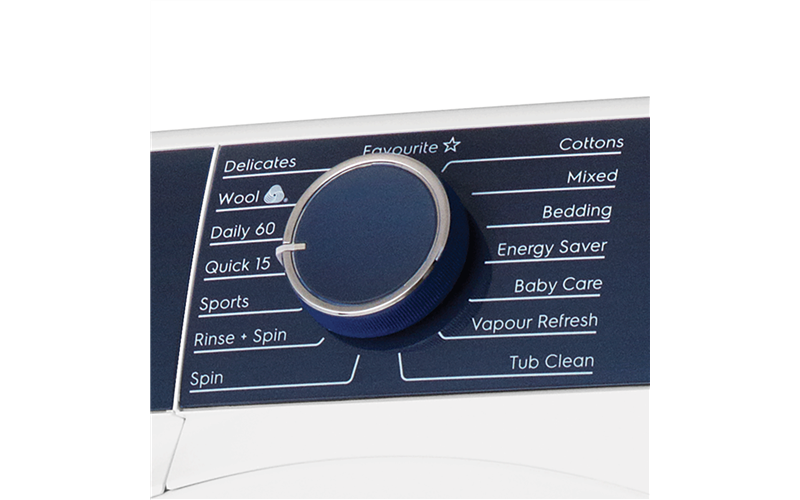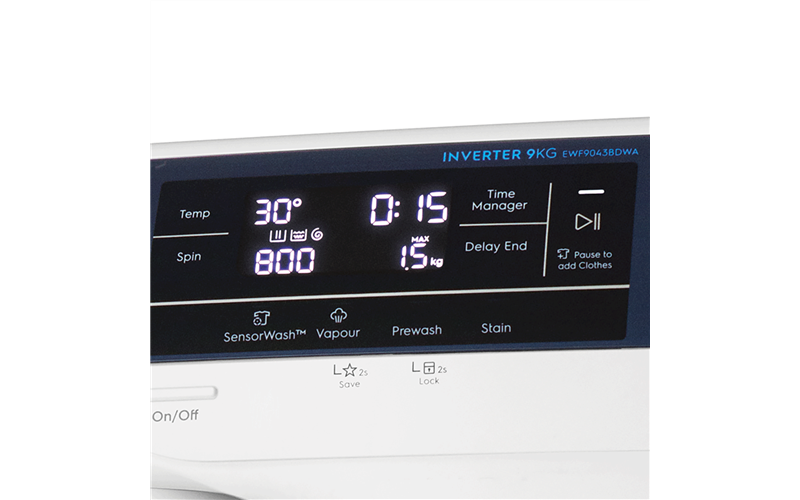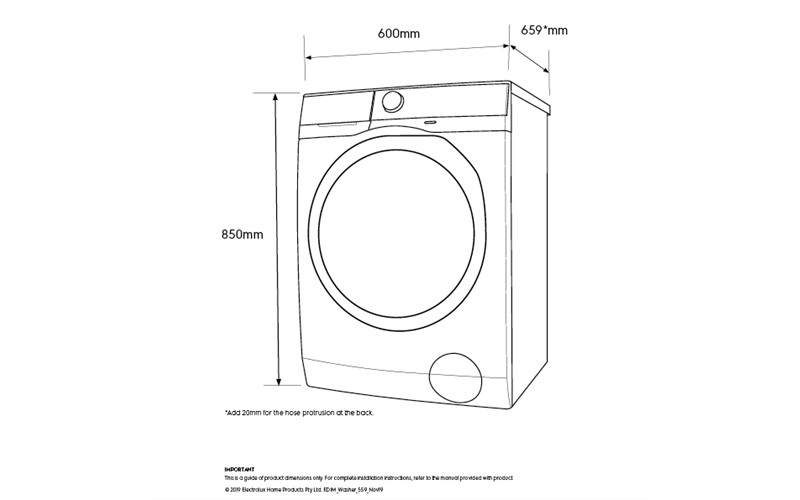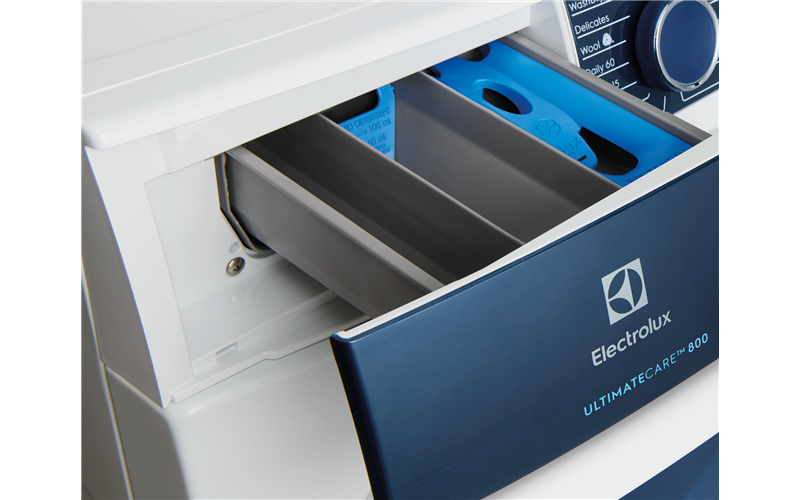 EWF9043BDWA
9kg front load washer, SensorWash
9kg front load washer, SensorWash
is rated out of
5
by
40
.
9kg front load washer, with SensorWash technology and 5 star energy and 4.5 star WELS rating. This washer features the latest twin sensor wash technology, UltraMix system, Woolmark Blue certification and vapour refresh options
Rated

5

out of

5
by
LoveMyNewElectrolux
from
Sexy and robust front loader.
I bought my Electrolux based on the advice of a reputed appliance repairer. He hardly sees an Electrolux - they are built well, rarely break down and are very reliable. I love the selection of wash cycles and duration, water temperature selections. Actually, even the 15 minute wash does a brilliant job! Even though it extracts a good amount of water in the spin cycle, my clothes (and in particular my bed linen) do not come out wrinkled. The guys who installed my appliance were very competent and helpful, even unwrapping the washer outside so not to make a mess with the packaging/polystyrene inside the house. Oh - very importantly - my Electrolux is low noise.
Date published: 2020-03-04
Rated

3

out of

5
by
CHRISTINE
from
not really 9kg capacity
I bought this 2 weeks ago as I was happy to buy a 9 kg washing machine. The machine only can wash this amount on 2 settings, the rest are 4kg so really its a false 9kg. washes well enough however it doesnt seem to do a cold wash either, 30c is the lowest temp
Date published: 2020-02-27
Rated

5

out of

5
by
Ripsnorter
from
Great style and reliability
This is my second Electrolux of this model in 2 years (I gave the first one away and promptly bought a replacement). I love the cycle options (particularly the steam refresh) and the simplicity of the operations. My only slight bugbear is the flimsy on/off button. We bought the 9kg instead of the 8kg this time and appreciate the larger size when doing linen and Duvets.
Date published: 2020-02-18
Rated

5

out of

5
by
LaraS
from
Love it!
The washing settings are longer, clothes come out super clean. It is so very quite so you can put on a load before you go to sleep and hang out first thing in the morning. Washing Doonas and pillows is also a breeze.
Date published: 2020-02-10
Rated

5

out of

5
by
Lunmeister
from
Electrolux outstanding service
I bought this machine in October. Due to clumsy delivery by a non-Electrolux provider not long after I purchased, The machine suffered internal suspension failure. Electrolux were nothing but fantastic in supplying a brand spanking new replacement machine which is living up to its five star rating that I have given it, those that have given it also are well justified.
Date published: 2020-01-21
Rated

4

out of

5
by
mark40au
from
Turns itself off
I brought this washing machine recently. I can't fault it. Reading reviews I just have to shake my head. I have learnt not to trust reviews. I'm buying the matching dryer next week. the 15 min short wash is a good feature. And the fact it turns off itself is good as well.
Date published: 2020-01-12
Rated

5

out of

5
by
MaryBri
from
Quiet and economical
Recently purchased the 9kg model and find it is great for all our washing needs, plenty of room for the clothes to tumble around in and after a good spin takes no time to dry, well the hot weather in NSW is a help at the moment
Date published: 2020-01-06
Rated

3

out of

5
by
Grayzee
from
Economy wash
Did the economy wash in it first time using it today. Took over 3 hours!! Not sure how this can be economical. Anybody have any recommendations for a quick 30/35 minute wash. Still working it out. Hope I haven't bought a lemon.
Date published: 2019-12-05
Rated

5

out of

5
by
Johnny_57
from
Simple To Use
I bought this a week ago and have used it almost continuously since then. I was very impressed with its ease of use. I thought it looked complicated in the showroom but it is really not. All the programs are clearly displayed and many are user adjustable if desired. I particularly like the "Sensor Wash" feature which will automatically adjust the wash program if the machine detects the load is not suitable for the program the user has set. It makes washing foolproof! I was also pleasantly surprised with the quietness of the machine. With the laundry door closed I hardly know it is on.
Date published: 2019-11-26
Rated

5

out of

5
by
APark
from
I like its quiteness.
I had a breakdown on my old machine (not going to mention which brand I had) and it was very hard time going through customer service centre. They are not exactly customer service centre. However Electrolux customer service was very friendly and easy to access. Highly recommended to any one considering purchasing new washing machine.
Date published: 2019-11-22
Rated

5

out of

5
by
Edsmum
from
Great water saver
Was a confirmed top loader user but absolutely love my front loader now. Easy on water, kind to clothes and not as noisy as expected. Also hasn't affected my power bill. Very impressed.
Date published: 2019-11-22
Rated

5

out of

5
by
dave73
from
Excellent machine.
Bought this machine 2 months ago. Have tried most of the features and am more than pleased, having previously owned one of the more expensive machines. Very easy to operate especially the add an item facility and the vapour refresh to cut down the ironing.Would thoroughly recommend it.
Date published: 2019-11-22
Rated

5

out of

5
by
Wendy
from
Great price & size , fantastic features & quiet.
I have only had it for a couple of weeks but I am so extremely happy. It washes so much better than my top loader , no streaky clothes. It quieter too . It was delivered a week before expected & they set everything up for me. I honestly couldnt be happier so far. I did try to take a photo of what they wanted for my warranty but they kept saying for me to do something other than I could understand . But I have the receipt & everything. I would not lie about this review as that's how I buy my products is by reviews & recommendations by people I know personally. I also bought my dryer through appliances on line & just as extremely happy with it & appliances online. Thank you.
Date published: 2019-11-07
Rated

3

out of

5
by
Kazza269
from
the refresh mode and cleaning large items
Im disappointed in my new machine as it didn't wash my doona as well as my previous smaller (8kg) Electrolux machine. The dirt seem to settle in a small area and we had to actually hose the dirt out when on the line. Also I can't use the refresh mode on the several washing modes I like to use. I preferred my old one as I could shorten the length of wash time too.
Date published: 2019-11-06
Rated

5

out of

5
by
Chloe
from
Easy to use
Great washing machine, very quiet, easy to use, washing comes out perfect every time.
Date published: 2019-11-06
Rated

5

out of

5
by
Moona77
from
Easy to Use
So quiet and easy to use, its a dream to use after my last machine lasted 23 years.
Date published: 2019-11-05
Rated

5

out of

5
by
Brookeeeeeeeee
from
Love it
I totally love it. Quiet (apart from a beeper that keeps going after your clothes are finished, I'm sure you can turn it off but I have a 1yr old so no time to read how to do it) But other than that it's tremendous! clothes are always clean!
Date published: 2019-10-31
Rated

4

out of

5
by
Sill
from
4hrs 40mins economy cycle?
Just not sure about the economy cycle being 4 hours & 40 mins. Im washing nearly everything on the 1 hour every day cycle. How can the best economy cycle be that long?
Date published: 2019-10-31
Rated

1

out of

5
by
Rose81
from
Does not clean clothes properly.
I bought this washing machine a month ago. My old electrolux wahing machine broke after 9 years of use without any complaints, so i decided to stick with Electrolux again. But i am not happy with it at all. Clothes do not come out 100% clean at all. I can still see the stain marks after they have been washed in the recommended washing cycle. The worst thing is that it says that it is a woolmark technology which means my woolens should come out nice and soft, but it's other way around. My woolens got lints on them after just one wash in this washing machine and them when i tried them on they got so itchy that i would probably never be able to wear them again. Over all, not happy with the product at all. I am going to have to exchange it soon for another one. Not going for Electrolux again that's for sure.
Date published: 2019-10-29
Rated

5

out of

5
by
Annie123
from
Quick wash
Best machine I have ever bought in the time I have been alive
Date published: 2019-10-27
Rated

4

out of

5
by
gemini
from
Great wash with quiet running
Washs clothes really well on the different settings. Quiet running, low water usage, clean clothes, really can't ask for more !
Date published: 2019-10-20
Rated

5

out of

5
by
Nemo
from
Very quiet
I have only had the 9kg machine for about a week and I'm loving it. This machine replaced a 10 year old Electrolux 7kg machine, so we are still learning all of the settings and programs. It's very quiet, I've had to open the laundry door and look to see if it is on a few times. I do have one complaint, the top transit bolt was very hard to remove, the other two were very easy. I love that I can set a favourite cycle for everyday use and even the teenagers in the house can work out how to use it. The first wash cycle to clean out the machine from factory settings was a little bit long (3 hours), but it's worth following the set up instructions if you want your machine to last. I highly recommend Electrolux washers, as I have already stated, my last machine was 10 years old and as a big family (7 people) it did us well. I hope this machine lasts as long.
Date published: 2019-09-27
Rated

5

out of

5
by
Alli
from
First time having front loader
First time ever having a front loader and so far I'm loving it. So quiet and cleans the clothes so much better without losing there shape. Decide on Electrolux after looking and reading reviews and for the price and value I can not fault it. Great product and good instructions ⭐️⭐️⭐️⭐️⭐️
Date published: 2019-09-25
Rated

5

out of

5
by
Miss Daisy
from
Easy to use
Overall I am happy with this appliance however I wish it had a full cycle using cold water only.
Date published: 2019-09-01
Rated

3

out of

5
by
SueRob05
from
Mixed blessings with this washing machine
I like the look of the front but the sides are flimsy and easily dented. It has a good range of cycles and cleans well but makes towels scratchy. There's no point in putting fabric softener in because the towels always end up like that.
Date published: 2019-08-30
Rated

5

out of

5
by
BradBoy
from
So far so good
Washes clothes with great results. Easy to use very quiet and happy with the purchase.
Date published: 2019-08-22
Rated

3

out of

5
by
Kellycreal
from
Disappointing
Bought this machine at the end of July and returned it to the store for a refund last week. After having wonderful experiences with our last two Electrolux machines, we were disappointed with the performance of this one. We found undissolved powder in the dispenser after a hot wash and on two occasions there was powder residue on our clothes after a cold wash. We also found stains on clothing that weren't visible before they went through the wash - we think maybe caused by fabric softener. Very disappointing because Electrolux was always our brand of choice in the past.
Date published: 2019-08-21
Rated

5

out of

5
by
BDowney
from
I was lucky enough to test this!
Betta allowed me to test it. I LOVE IT! I had a rather rickety old Bosch prior to this, circa 2000 and whilst it was adequate, I was thrilled to have the opportunity to test a sparkly new one. It is as superb as the 5 * energy efficiency. I love its quiet. I love there seems to be a program for everything you can possibly wash. I love there are short, thorough programs. I love the water efficiency rating of 4.5 - as I'm on tank water. What with my solar panels, it basically costs nothing to run and my clothes come out white (and right) first time. It's total peace of mind, no need to re-wash anything as the results are never disappointing. Thank you for letting me test this awesome machine!
Date published: 2019-08-02
Rated

5

out of

5
by
das13
from
Just the BEST Washing Machine
First front loader I have brought and simple LOVE it. It is easy to use, great variety of programs and for the first time EVER I washed a woollen jumper in a washing machine and it came out great. I would highly recommend this maschine, it is everything they say and more. I like doing washing now.
Date published: 2019-07-07
Rated

5

out of

5
by
Delle
from
A gentle hand in your laundry
This machine replaces my outgrown 4-point-something kg top-loader. I was concerned that it would not fit in the same place as my old machine, however there is merely a cm difference in depth and width. I have restricted access, so the wide opening is really handy. The Ultramix is a great help, in that it premixes your detergent so your water can remain at lower temps and still not leave streaks of detergent on your clothes. And for the die-hard top-loader fans, there is a pause function to add that last sock, AND you can easily modify the length of your wash. Even the less sensitive washes are gentler than the most sensitive wash of my top-loader. The options on the dial are fairly straight forward and I look forward to using the timer to delay my wash so my clothes dont sit crumpled waiting for me to return. A big thanks to my local Portland Betta, who delivered and installed with a smile.
Date published: 2019-06-20