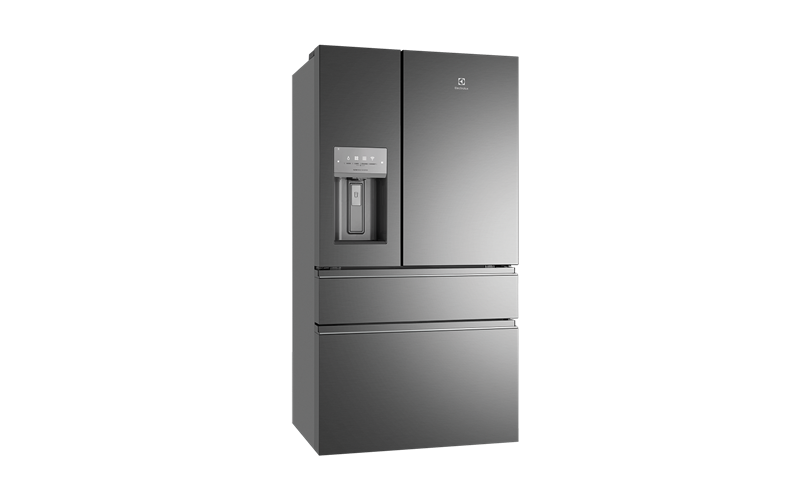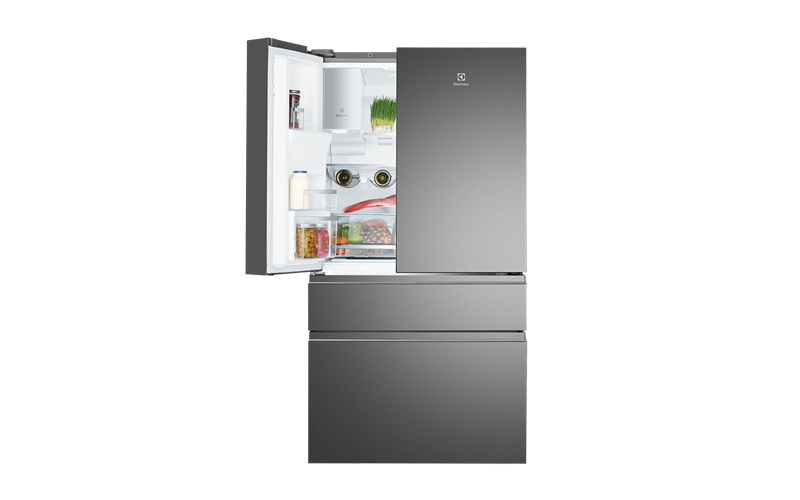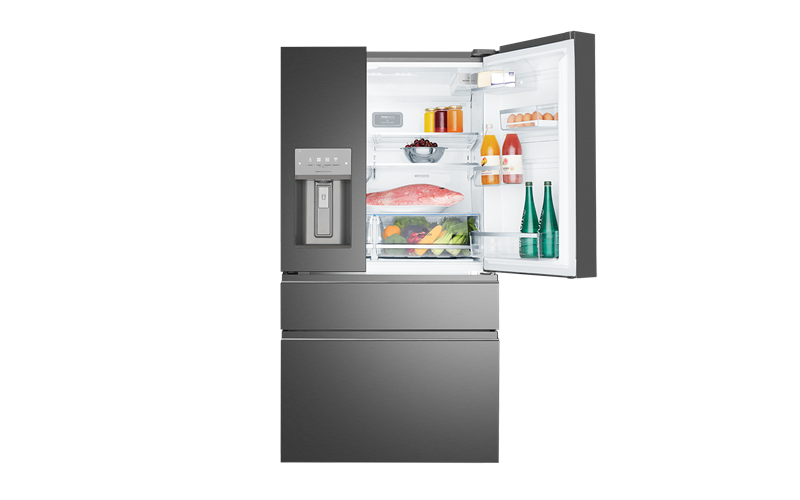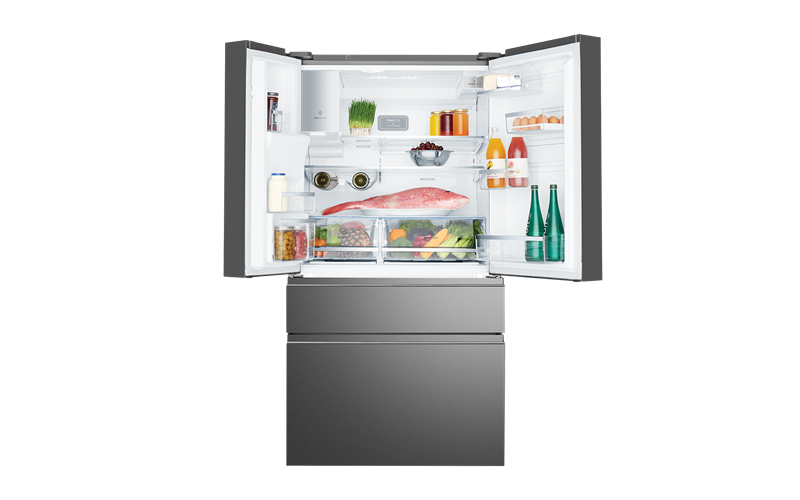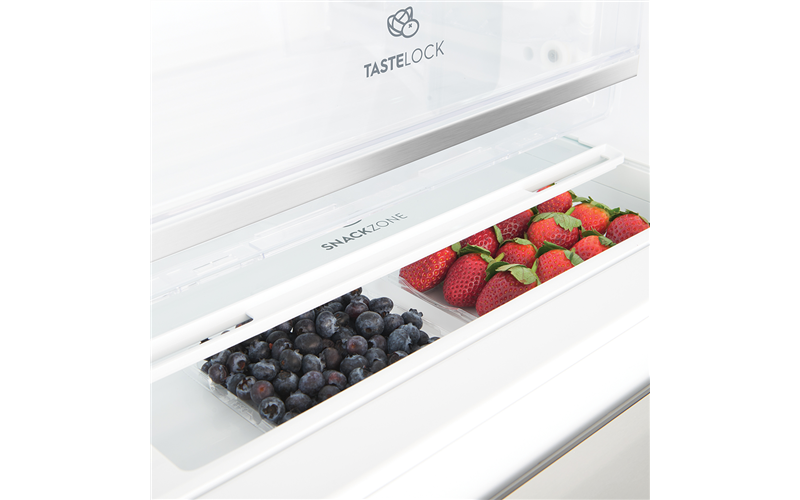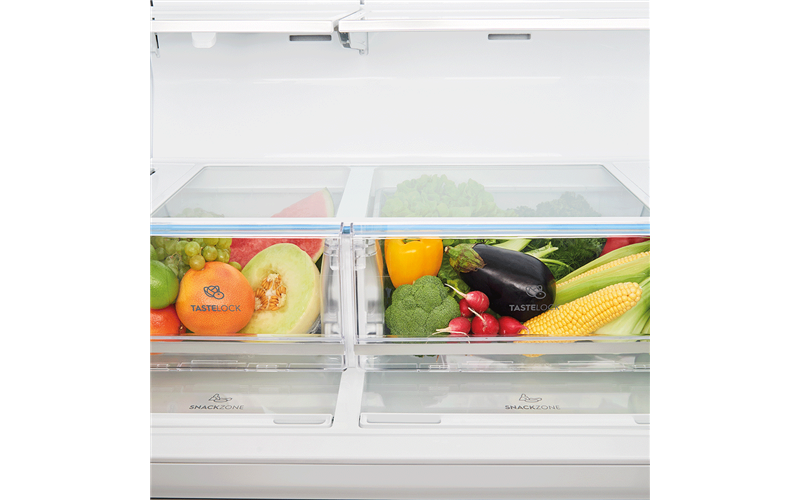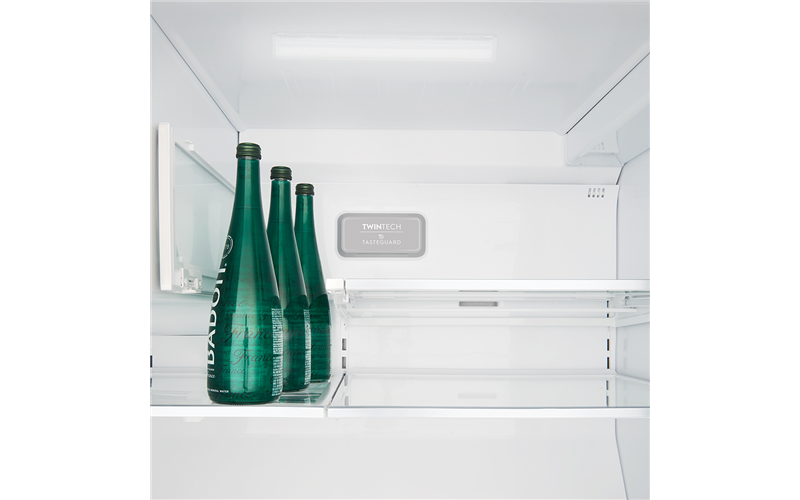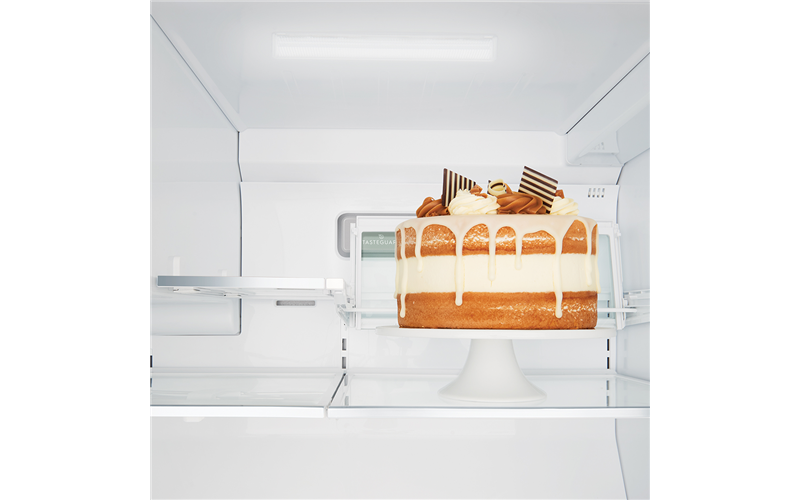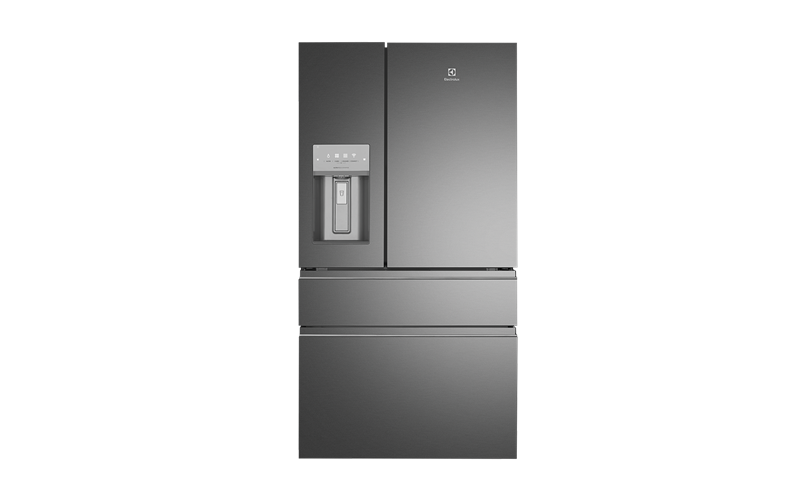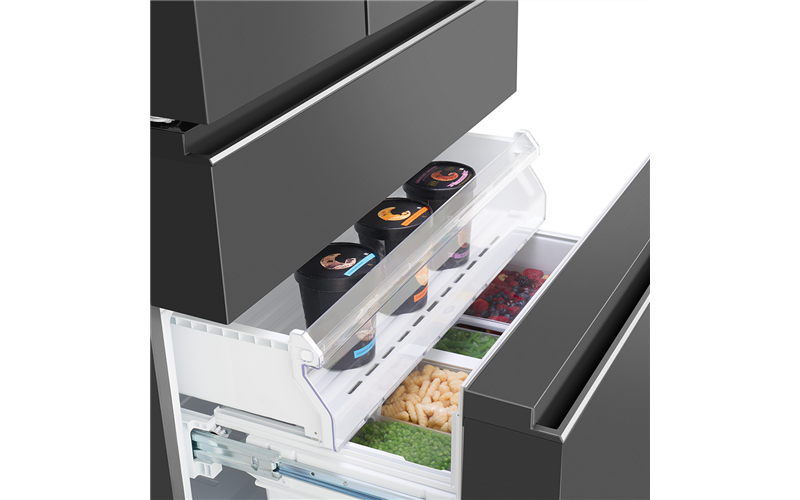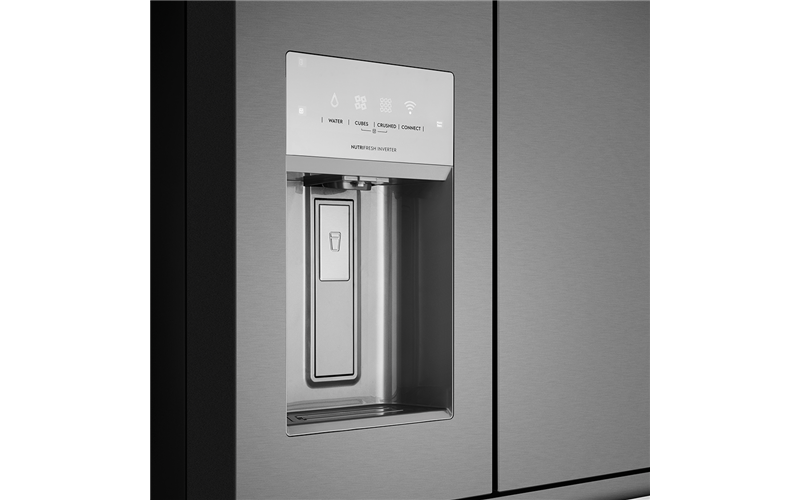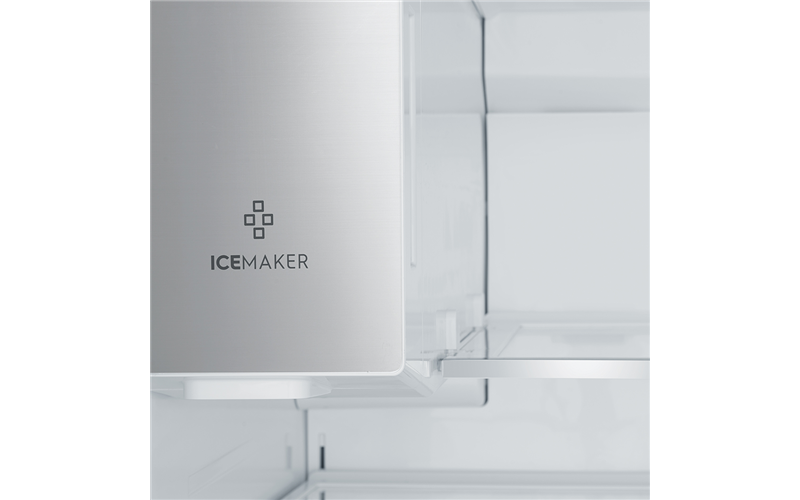 EHE6899BA
681L dark stainless steel French door
681L dark stainless steel French door
is rated out of
5
by
212
.
Connected 681L dark stainless steel French door refrigerator featuring a FlexFresh fully convertible entertainer's drawer, SmartSplit door design and TasteLock Easy-glide crispers with automatic humidity control.
Rated

5

out of

5
by
Kwithane
from
Great features.
We bought this refrigerator a month ago and are very pleased with it.
Date published: 2020-06-11
Rated

5

out of

5
by
Gary Wells
from
Great looking fridge
Great looking fridge My wife loves all the space-saving features very modern very practical
Date published: 2020-06-10
Rated

5

out of

5
by
Muzza
from
Great looking fridge
Best fridge that we have ever purchased, great features like the draw that can be a freezer, or fridge.
Date published: 2020-06-08
Rated

5

out of

5
by
Cowrie Cove
from
Inside layout of the fridge is fantastic.
This fridge works so well. The middle draw, that can be anything from a drinks draw to a freezer is the best feature!. Adjustable storage size in the freezer is also so practical. We love it.
Date published: 2020-06-07
Rated

5

out of

5
by
Mari
from
good features,
No problems with this 2nd fridge. First one I think had been dropped as there was a dent in the front door and the whole fridge was not straight.
Date published: 2020-05-31
Rated

1

out of

5
by
Jodhi
from
Not happy Jan
Why make such a nice fridge, with heavy clunking doors???? So annoying all day every day, close each time softly with hand to avoid this... who wants to do this, dont buy it its loud damaging annoying and not a thing i can do about it.
Date published: 2020-05-27
Rated

5

out of

5
by
Kaspa
from
Great Fridge
This fridge has a new and innovative way of keeping food fresher, for longer, meaning a lot less waste.
Date published: 2020-05-23
Rated

5

out of

5
by
BDNSA
from
Sensational and Sleek - a feature piece
Purchased earlier in the year, only just finished renovations, the Electrolux appliances in the dark stainless steel look amazing - especially the French door fridge. The fridge is a great size for a big kitchen, plenty of space in both fridge and freezer, and the flexibility of the smart draw from freezer, chiller, fridge and wine/drinks is a great versatile feature. Can't fault the ice and water at this point, not noticing any major noise either.
Date published: 2020-05-17
Rated

5

out of

5
by
Jany
from
Stunning inside and out!
I am loving my new fridge purchased only a month ago. So much to write about but I'll try to keep it simple! Very spacious shelves, with optional flip shelf a bonus. Crisper drawers strong and hold plenty but still glide easy and snug. Right hand door shelves exceptionally sturdy, even when filled with bottles of sauces and condiments. Left hand side door shelves uniquely shaped and lower shelf good for protecting delicates eg avocadoes. Snack zone good for keeping small special items out of the main fridge area. Loving the freezer drawers and layout, and top drawer has choice of operating as fridge or freezer. I'm using as a freezer as fridge has enough space. Outer doors and drawers close with just a nudge, and close solidly. Water dispenser works effortlessly. Easy to choose ice or water with a single press. Quiet in operation (some fridges ive had are very noisy!) Instruction manual easy to follow. No handles showing looks sleek and stunning! Thought id miss my old fridge but glad we now have this Electrolux! And my smart fridge and smart phone are all hooked up and registered too!
Date published: 2020-05-11
Rated

4

out of

5
by
nickjw
from
Great fridge, but allow for the doors
Loving the new fridge. We have been able to consolidate two freezer loads from our old fridges into this. the space is great, very flexible. Note however that the diagrams and space requirements in the manuals are incorrect. The doors do not hinge in place as indicated in the manual, and the fridge needs more than 40mm either side in order for the doors to open. Any less than this and the doors cant open sufficiently. My manual showed the doors hinging in place and 10mm needed either side, which resulted in us having to rebuild the kitchen to allow enough space for the fridge doors to open. The fridge is also very heavy, and big. We had to remove all the packaging and our front door to get it in. However now that it is in we love it. One last issue is that the back panel on ours was dented on delivery, and despite a service call being requested by our supplier, we are still yet to hear from Electrolux...
Date published: 2020-05-10
Rated

5

out of

5
by
alexisclq
from
Best fridge for food storage
Have had this fridge for a little over a month and am loving the storage capabilities in the fridge section - snack storage. Also really find it useful to be able to expand the middle drawer as another freezer and set different temperatures
Date published: 2020-04-29
Rated

5

out of

5
by
Varun
from
Heaps Space, cool Features, great app!
Heaps Space - Need i say more? 681 Lts for a refrigerator is humongous. We being family of 3 always needs space, we always have lots of home parties & we need space for our drinks & space for food.Keeps the food fresh, the freezer is large and has a drawer for small items as well. The shelves are movable and it looks lovely. I totally recommend it Features - Nice little features like cooling, changing the slider from cooling to freezing for times like parties, needing nooks for pouches & packets. Touchscreen & feather touch buttons! Great App - Really responsive app, you can lock & unlock the door features of water, ice & crushed ice in case you have a naughty little one. Changing the temperature of the refrigerator is as easy as swiping the button on your phone. Can't praise more, must buy.
Date published: 2020-04-27
Rated

5

out of

5
by
Robert 1958
from
Great features
Love the storage drawer perfect for storing and chilling drinks
Date published: 2020-04-25
Rated

5

out of

5
by
Ronette
from
Great features, size is great - fits loads in
We bought this to replace our old fridge freezer about 3-4 weeks ago. So far we have had no issues, the space is well thought out and I feel like we can fit so much more in than on our previous fridge. We don't have it hooked up to a water source as yet so can't comment on the water filtration and ice machine.
Date published: 2020-04-25
Rated

4

out of

5
by
Heather76
from
Sleek and modern
I bought this product a month ago and apart from an issue with the freezer door handle ( which was quickly resolved) I am happy with my choice, although having to open both doors to access the right hand vegetable crisper can be annoying, the whisper quiet operation is wonderful.
Date published: 2020-04-25
Rated

5

out of

5
by
Ilies
from
Quality and Reliable
I bought the fridge a month ago and I'm so happy that I did.
Date published: 2020-04-24
Rated

5

out of

5
by
AILEEN
from
perfect fridge
Every time I open the door or get a drink or ice, I'm so happy that I made the right purchase. The middle drawer is also so good for your cold drinks. Couldn't be happier!
Date published: 2020-04-23
Rated

5

out of

5
by
Jen W
from
Great Addition to my kitchen!
Love this fridge! Perfect amount of features for me and easy to fit in the space I had available! Easily connected to existing plumbing! Love the extra entertainers draw! Good amount of freezer space. Overall very happy!
Date published: 2020-04-22
Rated

1

out of

5
by
Mano
from
New fridge every 6months it seems
So after much deliberation we purchased this fridge as we were told that it was a very reputable brand. So we purchased in March 2019, by May we had a new fridge as the ice maker was not cold enough to make ice. Fast forward to March 2020, no ice again, got told known fault you will hsve to swap out for another new fridge, but apparantly will have to wait 4 weeks due to stick shortages.
Date published: 2020-04-18
Rated

4

out of

5
by
Rune
from
Great colour and amazing square design
Love the fridge the design as it's square n charcoal colour. Only thing which I got disappointed when it finally got delivered and it was placed at the allocated space the doors were touching the wall when we tried to open it as such the doors could not open and therefore we had to pull the fridge out a bit which basically what I didn't not wanted. I wanted my fridge to blend in with the cabinets. The second thing electrolux should maybe in future do Is incorporate a child lock where toddlers are not able to open the fridge. This will help parents from unnecessary stress and cleaning of the mess these monsters create. Overall I love the fridge.
Date published: 2020-04-17
Rated

5

out of

5
by
Julianna
from
Great design
We are very happy with our new fridge.Just one thing the doors and the draws do not close by itself. I'm not sure if we haven't leveled it correctly. Otherwise it a very well designed model and it's very quite.
Date published: 2020-04-15
Rated

5

out of

5
by
Nissoria
from
Love it !!!
I bought the fridge just over a month ago and it's best fridge I've ever had. It stores a lot of room and keeps food fresh longer. The water and ice dispenser works fantastic. Worth the money I've spent, no regrets.
Date published: 2020-04-13
Rated

3

out of

5
by
Col R
from
Noisey and doors close very hard
Not sure crispers are keeping food properly seems to lose freshness
Date published: 2020-04-12
Rated

2

out of

5
by
Tron
from
Fridge
It is quite noisy when engine is running, also heavy doors slam shut very hard But the fridge seems to do the job overall and makes Ive well so far
Date published: 2020-04-06
Rated

5

out of

5
by
Kent
from
Awesome fidge
Had this fridge about a month now, it's fantastic.
Date published: 2020-04-06
Rated

5

out of

5
by
Anonymous
from
great size and features
had this fridge for about a month now and we love it, the drawer feature is awesome lets us chill our beer and wine quickly, highly recommend this fridge if you have the room for it aleast 1000mm wide
Date published: 2020-04-05
Rated

5

out of

5
by
Gazza60
from
Work of Art
Bought fridge about a month ago and am very happy with it.Very flexible shelving and fridge freezer sections.Couldn't be happier.The fridge is a work of art
Date published: 2020-04-03
Rated

5

out of

5
by
Lol64
from
My Dream Fridge/Freezer
I am loving my new Fridge/Freezer! It's been awesome and the family can't praise it enough!!
Date published: 2020-04-01
Rated

4

out of

5
by
Taters 25
from
Stylish and easy use features
Bought a month ago, great use of space and especially love the cooler compartment drawer with ample freezer space .
Date published: 2020-03-29
Rated

5

out of

5
by
Nell
from
Great versatility
Love our new fridge. Great features. Love the versatility of the drawer which can become a freezer instead of fridge also the fact that the freezer is a drawer als. Very happy.
Date published: 2020-03-28