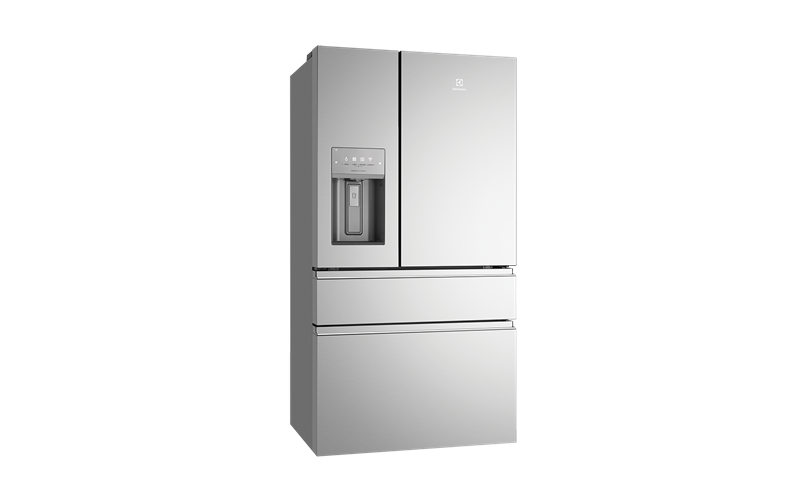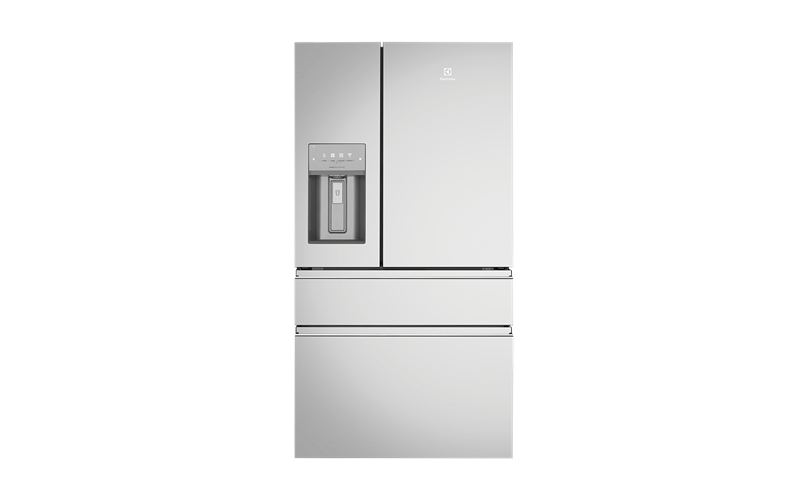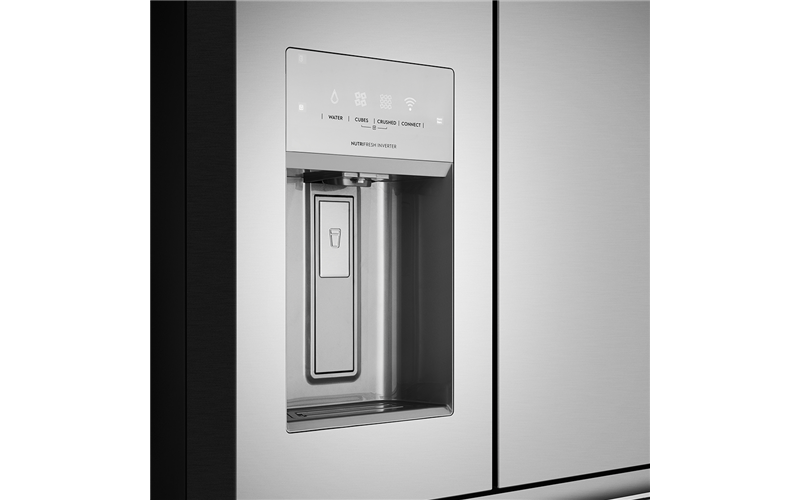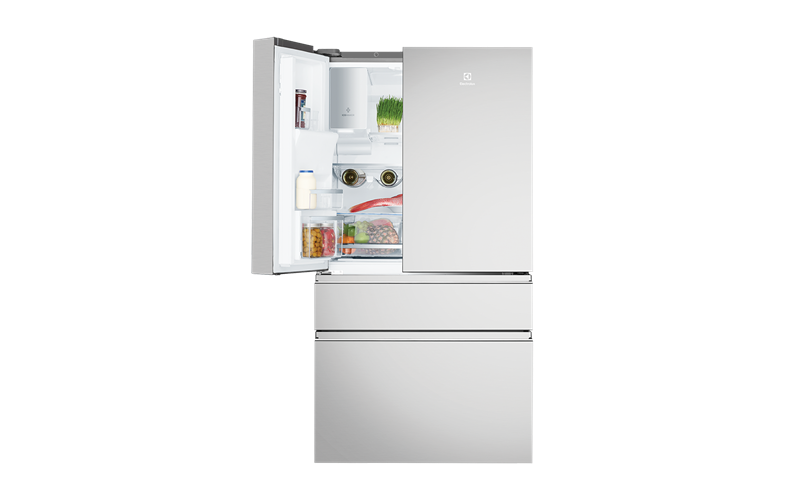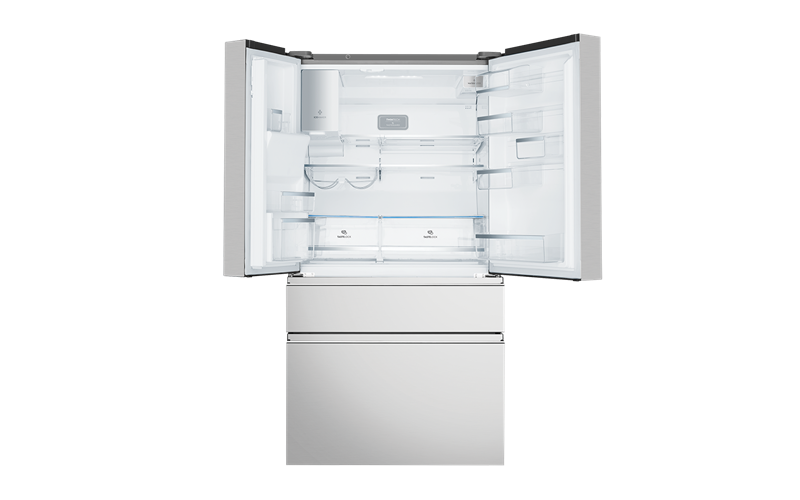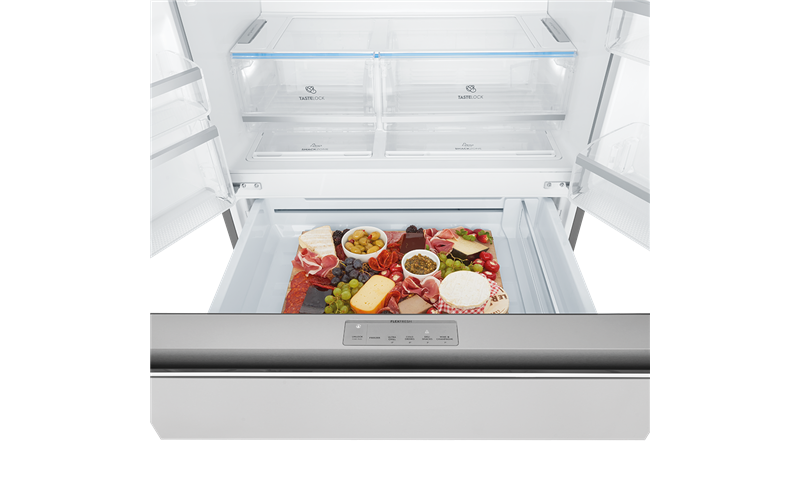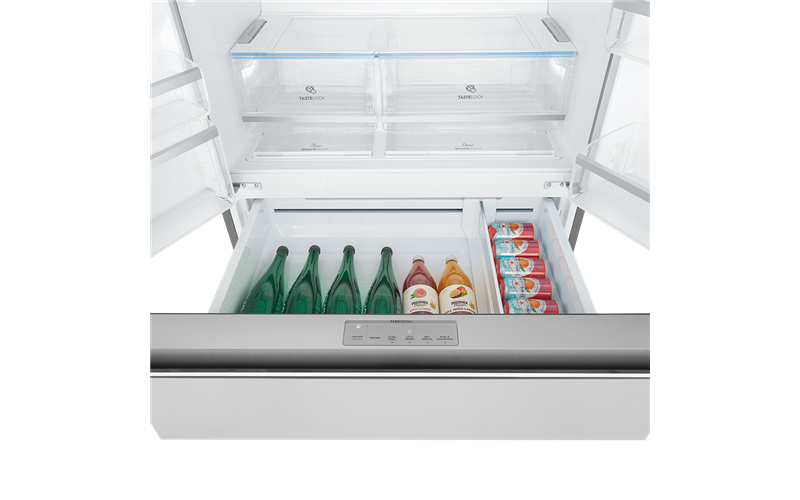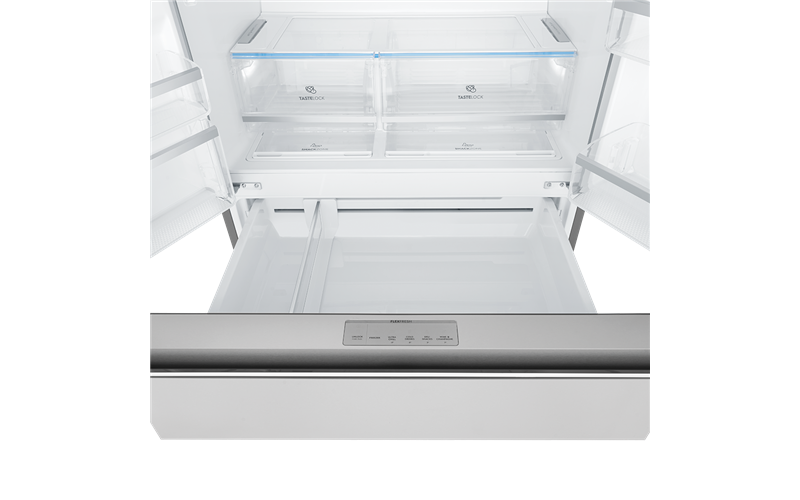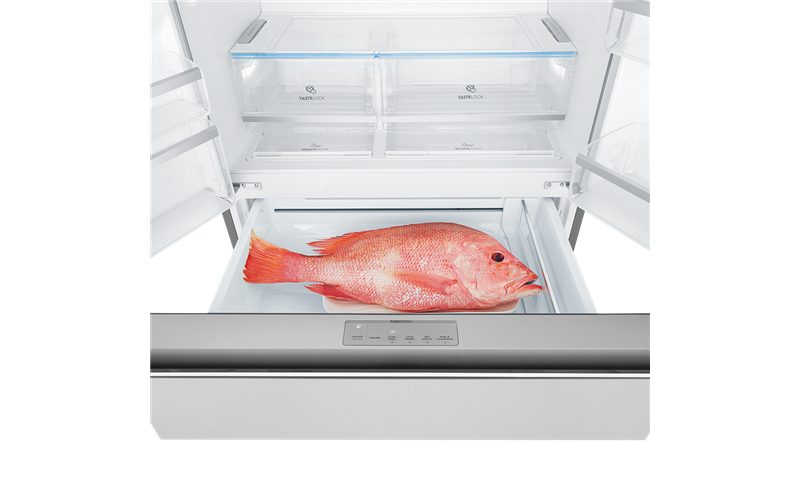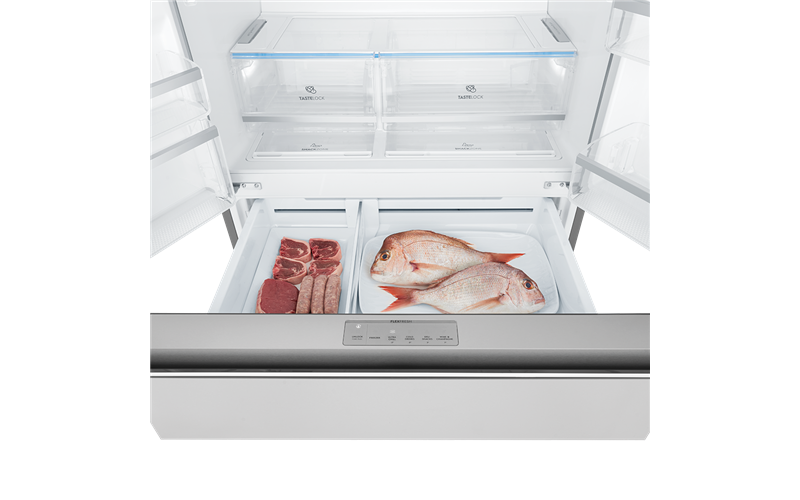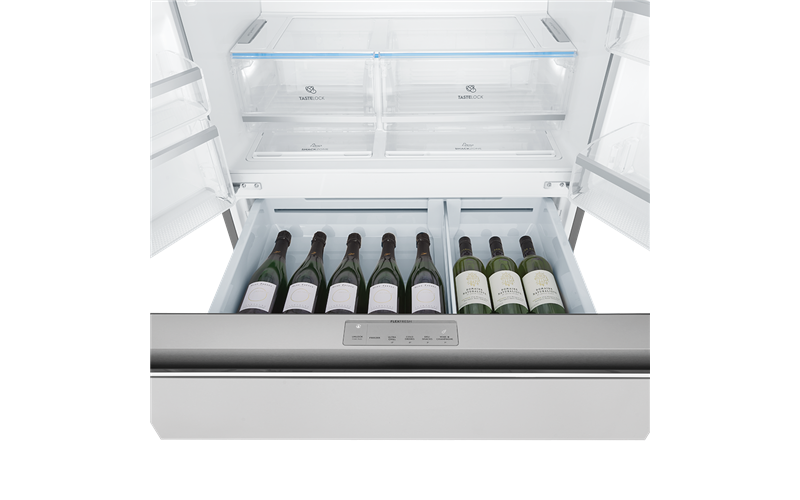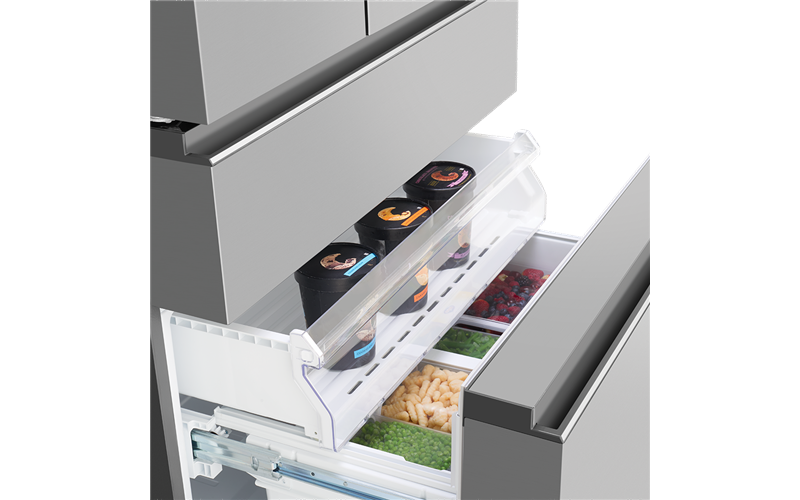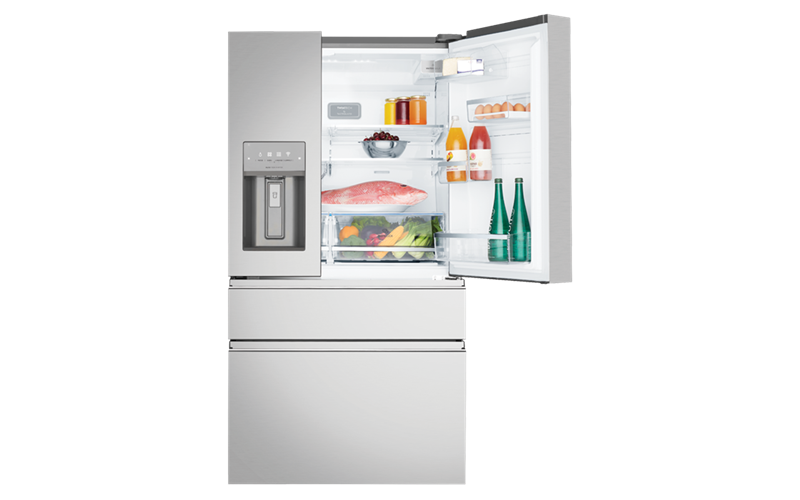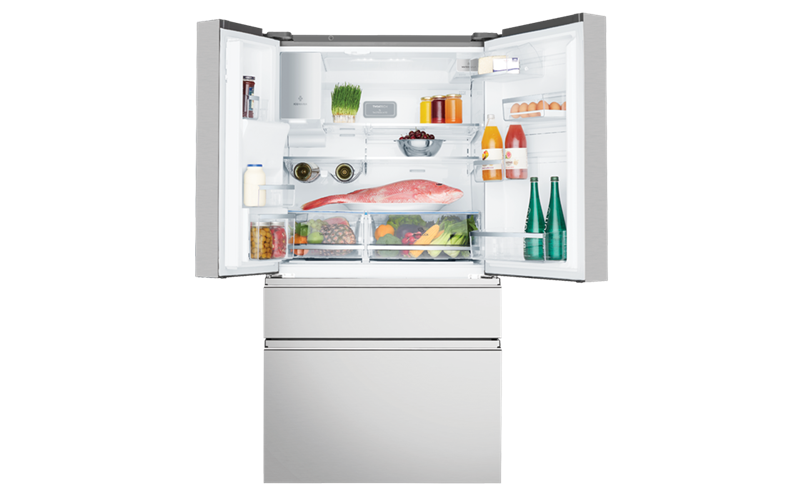 EHE6899SA
681L stainless steel French door
681L stainless steel French door
is rated out of
5
by
96
.
Connected 681L natural stainless steel French door refrigerator featuring a FlexFresh fully convertible entertainer's drawer, SmartSplit door design and TasteLock Easy-glide crispers with automatic humidity control.
Rated

4

out of

5
by
Spike007
from
Almost perfect!
We bought this about 8 weeks ago and love almost everything about it but the noisy ice maker! Every couple of minutes the growling noise comes from the fridge and as we have an open plan kitchen dining living area it is awful! I spoke to our retailer who claimed he had never had the comment previously so I think there is going to be a service call to make sure everything is okay! We love everything else about the fridge so watch this space for updates...if I'm allowed!
Date published: 2020-06-13
Rated

5

out of

5
by
Anne M
from
Great design features
Especially good to keep separate spaces for different foods. French doors make easy access.
Date published: 2020-06-10
Rated

5

out of

5
by
Janl
from
Best ever
Love my new Electrolux fridge. Very happy with the delivery, installation and rubbish removal. Looks good, works great
Date published: 2020-06-10
Rated

1

out of

5
by
Blacky
from
A little disappointed....
I am a little disappointed with this product, I thought it would have been more user friendly. Due to compact nature of the fridge you are unable to fill draws as product hits the top of the enclosure if draw is near full. Doors sweat around the seals when ever there is a humid day. The snack area is basically useless. The rollers on the bottom half of the fridge are noisy and rough. The main door keeps sagging after adjusting.
Date published: 2020-06-09
Rated

5

out of

5
by
Narelle
from
Best fridge ever
I have owned this fridge for 1 month now and love it. I have been pleasantly surprised how much cold water my children have drunk. They love the crushed ice, it feels so special to get iced water without filling ice trays. The Flexi drawer is amazing when friends are over, cold drinks for everyone.
Date published: 2020-05-31
Rated

5

out of

5
by
Anonymous
from
Fantastic fridge
We received this under warranty replacement and are very happy so far with it
Date published: 2020-05-20
Rated

5

out of

5
by
Jimjam
from
Very good fridge
4 weeks in and enjoying the features more everyday!
Date published: 2020-05-18
Rated

5

out of

5
by
BossHarris
from
Happier than we expected
We've had the fridge for a few weeks now, and while it had the features we were wanting, it has settled in much more comfortably than I expected. It sits well in the space. The water and ice is fantastic. Its storage is flexible and useful. It feels solid and durable. It cleans up easily and is easy to use.
Date published: 2020-05-14
Rated

3

out of

5
by
Jenny J
from
Great features, but gets dirty very quickly
I love the fridge, the ice maker is a god send. but I seem to have too clean it all the time, especially the outside
Date published: 2020-05-13
Rated

5

out of

5
by
mkbishop
from
Terrific design
We are very happy with this fridge. It is extremely well designed and easy to access.
Date published: 2020-05-05
Rated

5

out of

5
by
ChrisSL
from
Fantastic fridge
I have had the fridge a few weeks and it is fantastic. Plenty of storage space. The drawers in the fridge can be used without opening both doors. The storage space in the fridge has many different configurations.
Date published: 2020-05-02
Rated

4

out of

5
by
Teo Family
from
Great Design and Use of Space
Bought this fridge 3 weeks ago and have found this fridge provides lots of spaces that I find maximises all available areas of the fridge. Especially like the fact that top shelf of the fridge can collapse to give tall bottles (2l and 3l milk) room to store upright. Only criticism I can give is the doors do feel a bit tinny, doesn't have a nice closing soft sound. Also the fridge came with wifi problems that needed Electrolux to come out to repair.
Date published: 2020-04-30
Rated

4

out of

5
by
OzziePeter
from
it has some very good features.
The grandkids are in bed so I can't upload any photos from my I-phone to show you. The fridge/freezer is spacious and that's what we wanted. It's smaller drawer is great because it can be either a fridge drawer or a freezer draw. The skinny snacks drawer, I think, must be for blocks of chocolate. We don't need this as they chocolate doesn't last long enough around here to need refrigeration. We like the fact that the shelves are adjustable to allow for shorter or taller items. The large freezer drawer is a very good size. The double doors open to give a great view of the contents. The water, crushed ice and cubes are handy; we use them a lot. However we have not discovered the use of the wi-fi yet. We'll have to ask the grandkids. Honestly, we bought it because we wanted it to be our last fridge. We are recently retired. Mum had an Electrolux vacuum cleaner in the late 50's and it was good. We have had various other Electrolux items over time. They make a good product. You make up your own mind about them but so far, and we have had it only three months, and we have had no problems with it. All in all, We are happy
Date published: 2020-04-29
Rated

5

out of

5
by
mjgalbany
from
Excellent fridge/freezer, great back up
We have had this new fridge for a month now. The first one that was delivered had a non-functioning freezer. Once we realised this and some food was unfortunately defrosted, we rang Electrolux. They had their service person to us in a couple of days and he said it had a fault. Within another couple of days we had a new replacement that worked perfectly. No cost to us and a quick turnaround. We did not ask for any reimbursement for the food lost but Electrolux offered to pay for it as well. The WiFi app is handy for the smartphone and tells me the temperature of the 3 compartments. The middle drawer is great in that it can be changed from freezer to fridge very quickly with a choice of temperatures. There are no handles to protrude and the lighting is excellent. It is quiet and the ice/water system is great as a light comes on in use and little pressure is needed to trigger the ice/water. We paid a bit more for this model but I think it is well worth it.
Date published: 2020-04-29
Rated

5

out of

5
by
Larry
from
Love It
Great fridge freezer has more room than it looks and the iceaand water is great
Date published: 2020-04-28
Rated

5

out of

5
by
tony59
from
excellent all rounder
bought this fridge recently what a great buy.ice maker is so good.love it
Date published: 2020-04-27
Rated

5

out of

5
by
KristyP
from
Love it!
I love this fridge! We've had it for a month and love the features! The drawer that can be converted from fridge to freezer based on space requirements is my absolute favourite!
Date published: 2020-04-10
Rated

3

out of

5
by
Moll
from
Very loud fridge
bought this fridge new about a month ago- unfortunately it's far too noisy for an open plan kitchen. We need to close all the doors at night- it sounds like it's about to take off. A pity because the other features are great, especially the interior design and the continuous water dispenser. Wifi has never worked.
Date published: 2020-04-06
Rated

5

out of

5
by
Megs
from
Perfect for family with kids
We love our new fridge. The middle drawer is perfect for the kids yoghurts, fruits and snacks so they arent in the main fridge 800 times a day, and the fridge has made such smart use of space with retractable drawers and bigger door shelves to fit everything we need. Doors are a bit noisy to close just with the weight, but ice machine isnt too loud like some reviews suggested. Have only heard it once at night when I was already awake, has never woken me!
Date published: 2020-04-06
Rated

5

out of

5
by
Philip deCrez
from
Lovely fridge , cold water and ice wonderful
Only a month old but great functionality and appearance
Date published: 2020-03-23
Rated

5

out of

5
by
Melsa
from
Best Fridge!
I'm so very grateful that I bought this large capacity fridge. I'm able to plentifully stock up with fresh fruit and vegetables and dozens of eggs and dairy and store frozen salmon and steaks and loaves of sourdough in the freezer.
Date published: 2020-03-16
Rated

5

out of

5
by
LibbyS
from
Flexible layout works for us
We have had this for about a month now, and so far all is great. My last fridge was also an Electrolux (side by side layout), & lasted 9 years.In the first couple of years of the life of the LAST fridge, the ice maker needed replacement several times (under warranty). Thankfully this new icemaker seemes to work well-we use it a lot, along with the iced water dispenser. We love the drawer at hip height which can be used either as fridge OR freezer: we use this as our fruit and veggie drawer, which gets used the most.It is shallow and lit, so it's easy to find what you want very quickly. It's great that the whole fridge doesn't need opening when accessing this! The dedicated freezer drawer below this is still huge and ample size for a family of 4. Within this deep drawer is a smaller one we use for ice creams, frozen fruits etc. So far we are very happy with the performance and the layout. One minor complaint would be that you have to make sure you firmly push fridge door and freezer drawer to close properly...they are not self-closing.
Date published: 2020-03-11
Rated

5

out of

5
by
Cathryn80
from
Great layout!
Love our new fridge, lots of practical features, great family size. Great size water dispenser, fits all bottles I have!
Date published: 2020-03-10
Rated

5

out of

5
by
Rosco
from
Heaps of features
Excellent product plenty of space really enjoying having this refrigerator As part of our kitchen
Date published: 2020-03-06
Rated

3

out of

5
by
EfficiencyMs
from
Looks good, water is average, interior parts cheap
I wanted to love this fridge. But if you really want cold water quickly and use lots of ice, do not buy this fridge. If these aren't deal breakers for you: then it's a good fridge. The water pressure is SLOW and not very cold. Old fridge used to pump out ice cold water quickly! The hose for this fridge is tiny and the pressure can't be increased, basically this function is useless to me & I am already spending my days filling up water bottles and putting them in the fridge. Gutted as this is not a cheap fridge. Same issue with the ice: the ice-making tray is tiny. A small family on a hot day are regularly using up all the ice. The freezer top 'extra' drawer won't survive a family using it daily. We have already had to buy another freezer because this freezer is just not practical for a our family of smoothie makers. The interior shelves are a mess. As another reviewer mentioned: the snack drawer are a waste of space & badly made. Mine are so stiff that I need two hands and to push and pull hard to slide them open and closed. Just stupid. The dairy component is a waste of space: it has a huge open strip at the back: so it's not isolating the butter, and therefore would be more useful as an extra shelf.. Shy do I need the extra shelf? Because the fridge is full of water bottles because the water takes 1min to fill 1L of slightly fresh/ slightly cold water. See the problem.. Honestly: I am disappointed with this & wish I could return it & buy another fridge with the money. Not a great fridge. A good fridge, but not great fridge.
Date published: 2020-03-04
Rated

5

out of

5
by
Jason1612
from
Great fridge. Very handy middle drawer.
Previously had the Fisher & Payless French door fridge. This is a great upgrade. The middle drawer is just genius and the versatility of the fridges shelves are a win. Highly recommended!
Date published: 2020-02-18
Rated

5

out of

5
by
Goldie
from
Best fridge ever
I love this fridge. Purchased early 2020 So much flexible space. It is pricey. I hope it lasts longer than my last fridge— 8 3/4 yrs which was a Samsung. Highly recommend it .
Date published: 2020-02-10
Rated

5

out of

5
by
DanP
from
Very impressed!
I love this fridge, had no issues with the ice and water dispenser, the convertible drawer is excellent and the space and functions of the fridge and freezer sections are great!
Date published: 2020-02-07
Rated

3

out of

5
by
Beth
from
Traps fingers and toes
Bought this fridge a month ago because we loved the flexible layout and entertainer's drawer which can give you extra freezer space. So far, pretty happy with it except for one feature which has affected the whole family -- it traps your fingers if you miss-time the opening of the doors and the drawer. Because there are no handles your fingers get wedged between the heavy doors. Also the freezer drawer is so low it traps toes--excrutiating. Good looks have affected functionality and safety.
Date published: 2020-02-02
Rated

5

out of

5
by
Ellenk18
from
Beautiful and Practical
I bought this fridge a month ago and I am so pleased we did. It is incredibly stylish, and spacious. The added features of an air filter, filtered water and ice maker top it off. All work brilliantly. Absolutely love this fridge.
Date published: 2020-01-30