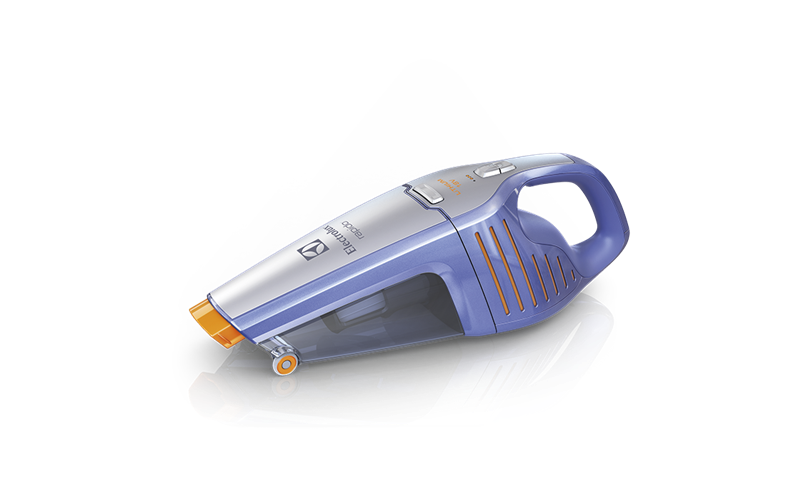 ZB6118
Rapido 18V
Rapido 18V
is rated out of
5
by
24
.
Always within reach, Rapido is a handheld vacuum cleaner ideal for the quick and convenient clean up of unexpected dry spills. The new generation is coupled with thoughtful features such as the pull-out nozzle which extends cleaning reach and felt-covered nozzle wheels to avoid scratching delicate surfaces.
Rated

5

out of

5
by
Anthony
from
Great little vac
REALLY GREAT POWER FOR A BABY VAC, DOES ALL THE SHALL JOBS WONDERFULLY
Date published: 2020-03-23
Rated

5

out of

5
by
Lelly77
from
Very powerful easy tom use a breeze to empty
Rapido is the best powerful, easy to use filters easy to clean and easy to empty
Date published: 2020-02-28
Rated

4

out of

5
by
Henry S.
from
Suction with a bite!
The Rapido lives up to its name ....... great suction and a reliable battery. Handy around the house and car. Easy to use and convenient as always on hand for those quick cleanups. Cant do without it!
Date published: 2020-02-20
Rated

5

out of

5
by
Mike Oz
from
Excellent Handhed Vac.
A friend had quite an old one of these and had always been very satisfied with it. We were able to test it whilst staying at their house and found it to be excellent. Our new one is very efficient and is easy to empty and clean. Worth mentioning is an innovative charging station which can stand on a flat surface at varying angles or can be wall mounted.
Date published: 2020-02-18
Rated

5

out of

5
by
Leslie-Anne Menzies
from
My husband just loves this vacuum and uses it dail
We recently purchased the Rapido 18V handheld vacuum - we are so impressed with the suction and easy to empty facility.
Date published: 2020-02-01
Rated

4

out of

5
by
Another Corey
from
Does the job
Nice design, decent suction, very easy to empty. The wheels on the nose keeps it from being scuffed up. So far it's been performing well.
Date published: 2019-12-14
Rated

5

out of

5
by
Stephan M
from
18 Volt grunt a winner
Powerful and ergonomic, glad I bought the 18V hand held machine.
Date published: 2019-11-11
Rated

5

out of

5
by
Lisa 69
from
Wonderful design
I brought this to product a while ago and wow does it do the job well it picks up my budgie seed and their feathers great for that so yes definitely accept
Date published: 2019-10-25
Rated

5

out of

5
by
KerryGil
from
Great little hand-held vac
Great design, good power, decent charge life. Little wheels prevent vac from scraping on surfaces. Compact enough to fit in cupboard.
Date published: 2019-08-20
Rated

5

out of

5
by
Amanda from Williamstown,
from
Electrolux Rapido ZB6118
Purchased online, order and delivery was excellent, no dramas. The vacuum works perfectly, was charged and ready to go when removed from box. Only use it on hard floors eg. kitchen, bathroom and it's great, can't complain. I didn't buy it to vacuum my car, that's what a full size vacuum is for. This is more for indoor use. Has strong suction and sits in its recharging cradle which can be mounted on the wall or sits on bench/table etc. Did look at the Dyson hand held vacuum but didn't want to spend that amount of money. I'm very happy with my purchase, glad I bought the Electrolux Rapido.
Date published: 2019-07-10
Rated

4

out of

5
by
j_sydney
from
Handy
Does what it claimed to do - efficient and very handy.
Date published: 2019-02-07
Rated

5

out of

5
by
LuckyLisa
from
Very easy to use
We brought this when our Dyson died, very happy with the power and ease of use
Date published: 2019-01-17
Rated

4

out of

5
by
Sulu
from
Great little machine
I bought this about a month ago and so far it is an excellent little machine for small vacuuming jobs, with plenty of power. Not sure of the value of the little wheels, which can easily come off, but they're not really necessary anyway, and the little brush on the business end is a good idea.
Date published: 2018-10-10
Rated

4

out of

5
by
Cattie
from
Does the job!
Bought this a month ago. Works well and very convenient.
Date published: 2018-07-04
Rated

4

out of

5
by
Beebeegee
from
Good Rechargable Hand Held
Replaced a long history of B&D Dustbuster products with this based on being happy with the big Electrolux vacs. Decent suction, battery life is OK, and it is relatively easy to clean. The little wheels seem silly at first but are strangely nice in use. I use it daily around the house and it gets most of the dirt from my car mats. The pull out snout is limited reach esp around car seats. The only down side I have found is the lack of tools like a long snout crevice tool, etc. Overall very happy with it at 6 months.
Date published: 2016-06-04
Rated

1

out of

5
by
SS76
from
This product was not as good as the ads
I had to return the purchased product with extended warranty twice to where I bought it from (MYER). It was ok at the beginning, then after normal use for 3-6 months, the eery sounds from the back part (machinery) happened again. If by the third time I still experiencing the same problem, Electrolux should recall this product off from the market. It such a shame for a great brand to selling the product with no satisfaction performance.
Date published: 2016-05-13