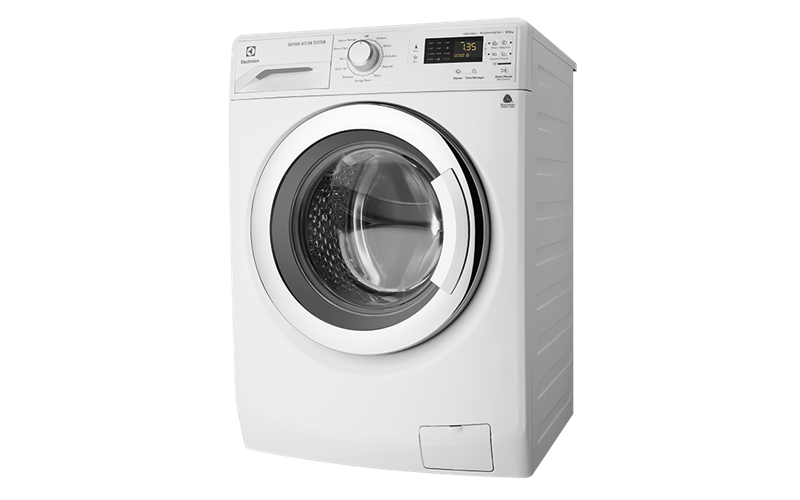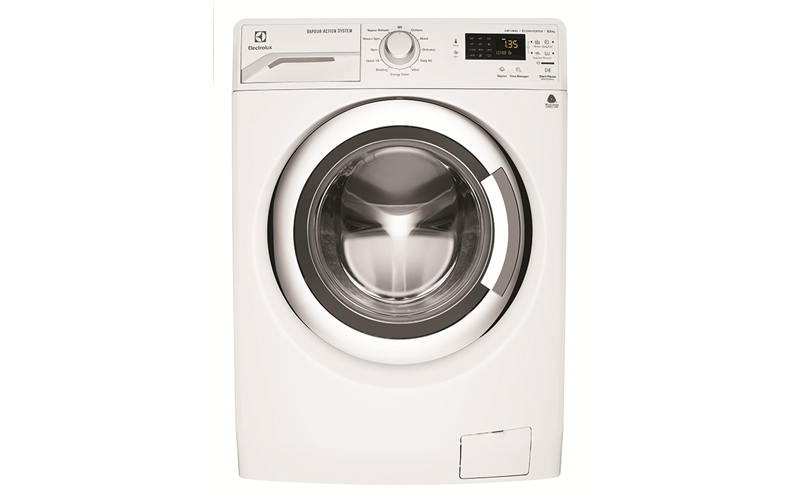 EWF12853
8.5kg Vapour Action System
8.5kg Vapour Action System
is rated out of
5
by
161
.
The 8.5kg washing machine comes with the Vapour Refresh program that freshens and gently revives your garments without washing. Other feature includes Time Manager, EcoInverter motor, Daily 60 minutes program and Woolmark accreditation.
Rated

5

out of

5
by
natalie
from
love the extra size which means i do less loads
would recommend this machine as it does everything you need a washing machine to do
Date published: 2019-04-09
Rated

4

out of

5
by
nanniebumpa
from
Still learning
We got it about 8 weeks ago and I'm still learning to use it after 46 years of using top loaders. There a lots of options to choose from,with as little as an 18 minute wash right up to 90 minutes. Extra spin time is available and you can select your preferred wash temperature and spin speed too. I like the "add items" option too
Date published: 2019-04-04
Rated

5

out of

5
by
Surfer3
from
Easy to Use
Had for a month now, love the quick wash feature and quite operation. Would love to see a total turn off feature as is have to switch off machine
Date published: 2019-03-28
Rated

4

out of

5
by
Monique
from
Never Had A Problem
I bought this washing machine in February 2017 and it's now February 2019 and I've never had a problem with it. A++ The only negative I found is that the 8.5 kg size doesn't seem to be as big as it should be But then again, if an 8.5 kg top load washer just fits more clothes and is bigger by it's design than a front loader is, then my negative on this is a rather small one
Date published: 2019-02-02
Rated

4

out of

5
by
my new wife
from
its white
its one month old dose its job let you know in a year
Date published: 2019-02-01
Rated

1

out of

5
by
seaney6
from
NEVER buy a front loader
worked well for 5 months although i could never fit 8.5 kilos in it ,about 5 kgs at the most!!!!in the 5th month i popped 1 single sweatshirt in it and when the cycle had finished half the rubber had ripped from the door seal.electrolux came to fix it and told me it was my fault and that the repair would be $400.00 PLUS PARTS,needless to say it went out for a council pickup at just 5 months old.worst purchase of my life ,I went out and bought a 10kg fisher and pykel top loader immediately.please don,t buy a front loader .
Date published: 2019-01-02
Rated

4

out of

5
by
Male domestic
from
super wash machine
Purchased our first frontloader as I always wanted one but could not afford, bit the bullet and purchased this machine. Does a excellent job of the washing. The range of settings is adequate for my needs. Only having owned this machine for a few weeks still working out the different settings. Would recommend Electrolux do up a flow Chart to walk you through the different settings to be combined. Love the 18 min wash cycle and vapour cycle used regularly by our daughter who always finds she needs an outfit but forgot to put it out for washing. My only recommend is to buy the cabinet it stands on to raise the height to a nice height. Electrolux should redesign the flap to access the drain so it does not have to be taken off, when you need to access the drain tube to remove the lint trap.
Date published: 2018-12-11
Rated

1

out of

5
by
Karen7777777
from
Destroys clothes
We've had this machine for nearly 6 months and I am extremely disappointed with it! Our good clothes constantly come out faded, damaged and extremely wrinkled no matter what setting I put it on. Our expensive clothes have basically been destroyed which makes it a very expensive machine. The rinse/spin cycles takes longer than a normal wash, which is false advertising, because it means that it is just a normal wash cycle with the "rinse/spin" label. I regret buying it!
Date published: 2018-12-09