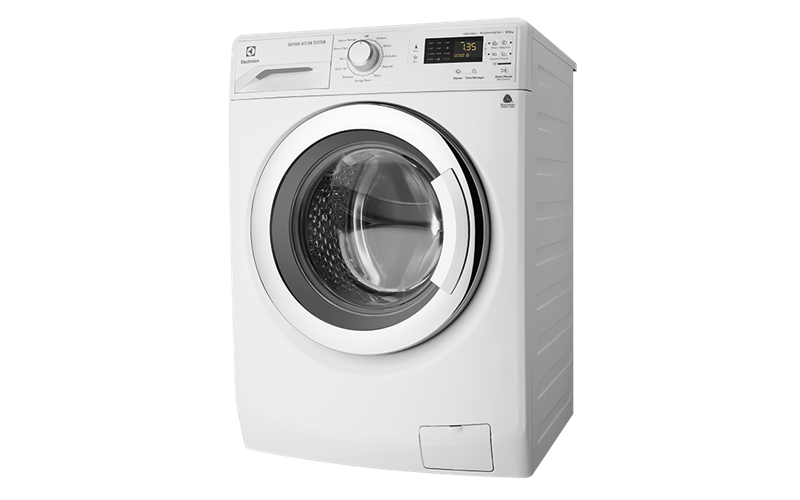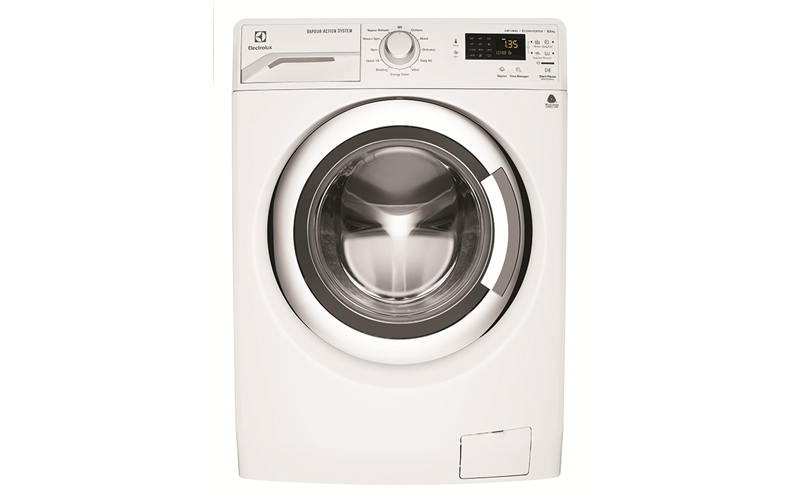 EWF12853
8.5kg Vapour Action System
The 8.5kg washing machine comes with the Vapour Refresh program that freshens and gently revives your garments without washing. Other feature includes Time Manager, EcoInverter motor, Daily 60 minutes program and Woolmark accreditation.
Rated

4

out of

5
by
Ormi
from
Great Machine
Simple operation, washes well, best with liquid detergent, door bit hard to close, would love to see research and development of soft close door latch mechanism.
Date published: 2018-04-12
Rated

5

out of

5
by
brucep
from
Been worth every cent so far
I got this about a month ago and extremely happy with the performance, i had to replace my washing machine after 10 years so this machine has a lot to live up to, so far so good
Date published: 2018-04-12
Rated

5

out of

5
by
Duck
from
Great machine
Replaced my Bosch front loader and is a much better machine overall. Clothes come out really clean and pretty dry after the spin. Quiet and efficient.
Date published: 2018-03-19
Rated

1

out of

5
by
tippy
from
control panel will seems not to be working.
on the whole very disappointed. Machine seems not to function properly
Date published: 2018-03-10
Rated

4

out of

5
by
Sweetie
from
Neat front loader
I'm very happy with our choice,it's a great size for a family.The bonus of the fast wash is great,18 minutes and your done.My only criticism is the speed of the spin, it does leave the clothes a little too wet,fine in summer but not so good for winter,I could see the dryer being over worked!
Date published: 2018-03-04
Rated

5

out of

5
by
Ezzie
from
Impressive machine!
I must admit this machine was not an intentional purchase, our old machine died and this machine was offered as a replacement, you know what it is 100 times better than the other branded machine we had!! Best machine replacement ever! My only beef would be an hour cycle on cold being the only short cold option, I'm adapting, to be honest it is better for cleaner clothes. Another bonus this machine does not jump around the laundry like my other machine! Winner! It was kind of like you didn't realise you owned a bad machine till you upgraded to something better! So far this machine is a 10/10!
Date published: 2018-02-23
Rated

5

out of

5
by
Subhi
from
Smooth performer
I was so happy with the longtime performance of my previous Electrolux washer that I did not hesitate to get the latest model when I needed a replacement. And it's a beaut!
Date published: 2018-02-21
Rated

5

out of

5
by
donna9
from
Best Washing machine I have owned
I've had my machine for a few months now and its still as quiet as the first day it was used. it washes clean it holds the right amount of clothes for 3 adults, it has options for smaller loads and a variety of temperature options. The door is I agree and opens wide for ease of load and unloading, couldn't be happier.
Date published: 2018-02-20