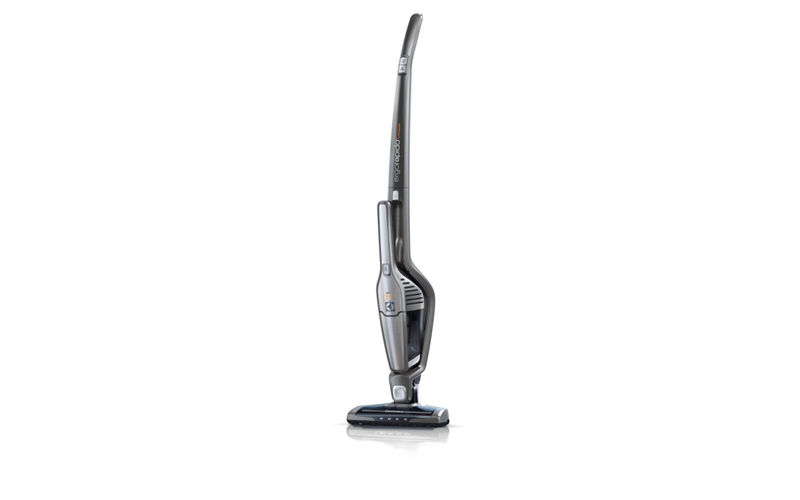 ZB3113
Ergorapido Series 5 Tungsten
Change the way you clean. Engineered power, designed convenience. The new generation of Ergorapido is the only high performance cordless vacuum with 2 in 1 versatility, 180° Easysteer™ manoeuvrability and unique BrushRollClean™ technology. Now features lithium battery across the entire range, providing more suction power and longer run time. Its low centre of gravity design makes Ergorapido very easy to glide, and feels super light on your hands (around 500 grams*). PLATINUM SERVICE
Rated

4

out of

5
by
Mlo2113
from
Great vacuum
Bought this about a month ago. So happy with it . Great for quick jobs with the full power of a reg vac..... would recommend to anyone
Date published: 2017-12-08
Rated

5

out of

5
by
AvaRuasell
from
Great Machine
I bought an Electrolux Ergorapido last year. It has lasted very well and I am still happy with it. It's a great light weight and easy to use vacuum. Great with animal hair or a quick clean up after making a mess in the kitchen. Great buy!
Date published: 2017-11-14
Rated

5

out of

5
by
best little vac ever
from
light, fast, great pick up
I am just so happy with this light little vacuum cleaner that you can just pull out for the smallest of jobs and it picks up the mess so well.
Date published: 2017-09-05
Rated

5

out of

5
by
House Husband
from
Light Weight but Powerful ZB3113 Stick Vaccum
Light Weight but Powerful ZB3113 Stick Vacuum is far better then other Stick Vaccums that have the weight of Motor/Battery in the upper handle, Too top heavy and defeats the purpose of a light weight vacuum to hold and push. Now fitted with Lithium Batteries you do not have the problems that Ni cad and Ni mh had. Lithium are more powerful, hold their charge for much longer and longer run time with shorter charge time. The suction is very good for it's intended purpose, Please remember the ZB3113 is a battery vacuum powered by Lithium Batteries, it is not a 240volt 1800w unit. We have a large area to vacuum and in 99% of time the Electrolux ZB3113 is all you need. Easy to clean dust collect unit is easy to empty and reinstall. All up, for the unit I would say Electrolux are on the money. Parts are easy to find (eg. replacement filters) and priced well, if and when needed. I spent many hours on U-tube researching the different Brands, Configurations, Reviews, Pro's/Con's and Models from many Manufacturers.
Date published: 2017-08-27
Rated

5

out of

5
by
AC2402
from
Best Stick vacuum and value for money.
Excellent Stick Vacuum. Easy to use and light weight. Able to use on hard floors; carpet and stairs. Great for pet hair too! Charges quick and vacuums for 40 min on high power (carpet) and longer on low (hard floors). Highly recommend.
Date published: 2017-07-12
Rated

5

out of

5
by
Jan
from
Choice was RIGHT!
I Love this new Electrolux Hand held vacuum cleaner! It is effective - not too heavy (I have tendonitis in both wrists) and I am constantly amazed at how much dust and debris it collects! It whizzes around my unit in no time. It's easy to clean and empty and because of the swivel head gets right amongst and under furniture. The other great feature is it doen't take long to recharge and stores easily. I Love Love Love it!
Date published: 2017-03-21
Rated

4

out of

5
by
The Big P
from
New Electrolux Ergorapido cleaner
We have had the cleaner for a couple of months now and are very happy with it. Good suction, easy to manoeuvre, useful detachable hand-held unit, easy to clean, charges quickly, and has a good use time before running flat. We're not prepared to make a final judgement yet, as there are some issues with rechargeable batteries in this kind of device, and we need to wait and see over what period of time the battery will continue to charge fully and give us reasonable usage before running flat.
Date published: 2017-01-24
Rated

5

out of

5
by
Agadore
from
Light & Easy
Easy to hold in your hand, good suction, cleans both my Carpets and hard Floors with the one head, long running time.
Date published: 2017-01-12